Reusable Grocery Bags – They Work For Me!
We are a participant in the Amazon Services LLC Associates Program, an affiliate advertising program designed to provide a means for us to earn fees by linking to Amazon.com and affiliated sites. We participate in other affiliate programs as well. For more details, please see our disclosure policy.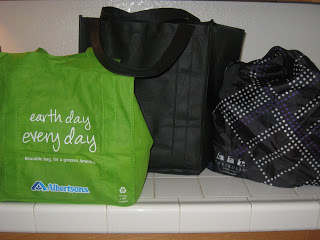 As you know, I'm a big ol' grocery geek. I love to score big on food costs. Plus, feeding a family of 8 requires that I buy a lot. My children are hobbits, and I think we have a meal every hour. Seriously.
Needless to say, with all my shopping, I was getting buried under a pile of plastic grocery bags. Yes, I faithfully saved them. And then I faithfully forgot to take them back to the store each week so that they could be recycled.
A few months ago, I invested in some reusable bags and I never looked back. I absolutely LOVE these bags. Let me count the ways.
1. They hold so much more than your typical grocery bags, even the paper variety.
2. They aren't going to break on me. Can you say broken glass jar of apple juice in the middle of the parking lot?
3. They are a way for me to practice good stewardship in that I'm not using aforementioned ton of plastic bags.
4. They get me a discount on my grocery purchases.
5. They're cute!
6. 'Nuf said, they definitely work for me!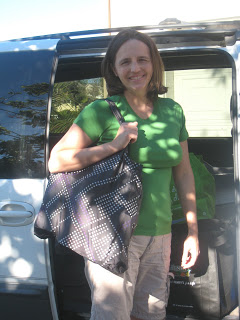 Do you use cloth grocery bags? Why or why not?
P.S. See that purple and black Envirosax bag? You can win one! Go here for the details and an in-depth product review.