THIS GIVEAWAY IS NOW CLOSED. CONGRATULATIONS TO #68 Sue AND #62 chopf712! PLEASE SEND ME YOUR MAILING ADDRESSES.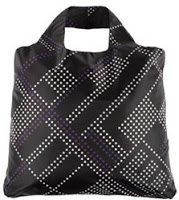 There are a few things that I take with me on my grocery shopping trips: my children, my coupons, and my grocery bags. For awhile, I was forgetting one or the other.
Well, not my kids!
But I've been known to turn around for home when I've forgotten my coupon box or my grocery bags. They are just so handy, I don't want to leave home without them.
I mentioned before that I can't stand to have all those plastic grocery bags pile up on me. So, about six months ago, I started investing in reusable grocery bags.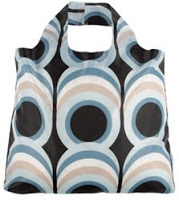 Most grocery stores sell them for under a buck. So, I bought a few here and a few there. I even got one free for using a coupon. Slowly, my collection has been growing. I don't quite have enough to accomodate my big shopping trips each week, but I'm getting there.
One of the drawbacks to the grocery store variety of bag is that you're limited in style and color, and inevitably you're a walking advertisement for the grocery store since they slap their logo on the side of the bag. Consequently, I've tried to be a little selective in which ones I buy. For instance, if it's not my green, I'm not buying it.
A couple months ago I received a sample from Envirosax. This designer bag puts my Albertson's lime green to shame. These bags are silky smooth, well-built, and roll up and secure with a snap so that you can easily tuck one in your purse.
Plus, they're cute! I figured out that if I start collecting their green grocer series in avocado, olive, tarragon, and summer pea, as well as their new Planet Green collection, I'll always be color coordinated. Now we be styling!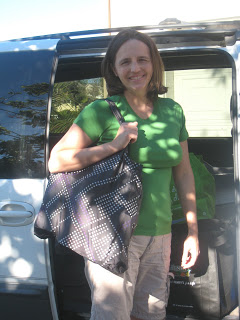 A few details about these bags that make them great additions to your MOM toolbox:
Lightweight polyester, portable, waterproof, and weighing just 1.4oz each, these groovy bags are available individually or as a series of 5 contained within a handy pouch. With reinforced seams, each surprisingly large bag can hold a weight the equivalent of two supermarket plastic bags.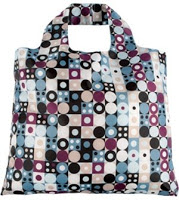 They are, indeed, voluminous bags. The only trick is teaching the checker that they really can fill 'er up!
Obviously, they're pricy in comparison to the ones you'll pick up at the checkstand, but I do believe that they're more durable and will last longer. They are also a size that would fit well for a beach bag or other bag of tricks. The fact that they are so compact is an added bonus. You could easily tuck one in your purse, in the diaper bag, or in your suitcase whenever you anticipate needing extra storage.
This week two LifeasMOM readers will each win a bag of her choosing from the the Candy collection from Envirosax.
Inspired by Italian designers of the '70s, the Candy collection will bring a little smile to that shopping trip.
This contest is open until Saturday (4/25) midnight, PST. Winner will be chosen at random. You cannot win unless your email contact is available. There are several ways to enter.
1. Leave a comment about your favorite bag on the Envirosax site.
2. Tweet this giveaway (use @fishmama) and come back here and leave another comment, telling me you tweeted.
3. Write about this giveaway on your blog and bring the link back here.
4. Subscribe to www.LifeasMOM.com via a reader. Leave a comment telling me you did so.
I hope you win!