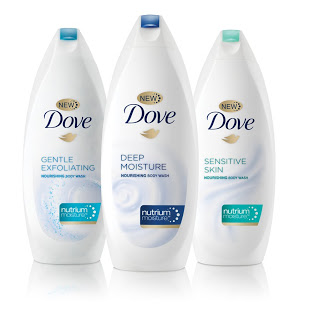 Since my family has sensitive skin, I have to be selective in my choice of soaps and lotions. FishBaby can only use Dove, per doctor recommendations. Her skin can flare so easily, it's not worth the risk to try something else. So, I try to stock up on it when I can. While I am brand loyal on few things, Dove really is a name that I trust.
Recently Dove sent me samples of their newest body washes. And since theirs is a brand that we welcome at our house, we gave it a go. I placed one bottle in the master bathroom shower and used the other two bottles for handwash. After daily use, and sometimes many times a day, I found that I really liked the product, especially the exfoliant variety.
Dove claims that,
"all regular body washes caused dry skin damage. Current body washes actually damage proteins and lipids in the skin's outer layer (called the stratum corneum) during the cleansing process, which can lead to the loss of critical moisture. When skin lacks proper moisture, dryness, tightness and irritation/redness can all occur. Some existing body wash technologies are focused on minimizing protein damage and alleviating visual symptoms of moisture loss by adding heavy moisturizing ingredients (occlusives) that sit on top of skin. While these additives help mask dry skin damage, they do not address the deeper problem of lipid damage."
I'm no scientist, so I can't attest to these claims. But, I know I liked using the product, and our hands and bodies suffered no ill effects from using the product daily. It's been very dry this summer in San Diego, and our skin seems to be fairing well using this product. I wouldn't say anyone but the baby suffers from dry skin that might normally occur under drought circumstances, and hers is a chronic condition.
Some characteristics of these new body washes, according to Dove:
Repairs and maintains skin's protective layer during cleansing
Unlike moisturizers in other body washes, Dove Body Wash with NutriumMoisture™ penetrates surface skin deep down to replenish and nourish
Clinically proven to significantly reduce dryness and improve moisturization
Available in Deep Moisture, Sensitive Skin and Gentle Exfoliating
I would certainly buy these body washes, especially when combining sales and coupons. (You know me!) Clicking around on their website, I found that you can register as a Dove Dimensions member and receive up to $40 in coupons over the course of a year. August's offers include $1 off these body washes or the body bar 4-pk or larger. CVS is having an ECB deal on this starting tomorrow. Buy $15 of product, get $5 back. Add a few of these coupons, and you've got a great deal on a good product.
What's been YOUR experience with Dove soaps? I'd love to hear it.
*Disclaimer: I was not paid to write this review. I did accept adequate samples in order to familiarize myself with the product in order to review it.