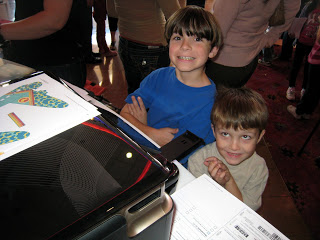 The handsome guests I took with me.
Today I attended an HP Blogger Event at a San Diego County movie theatre. The Hewlett-Packard team treated their guests to a complementary movie (with popcorn!) as well as a hands-on demonstration of the HP Photosmart Premium with Touchsmart Web.
In the last 13 years since FishPapa and I bought our first computer, we've owned a couple different printers, including a couple HPs. It was fun to check out this one. If you're in the market for a new printer you might want to consider this one.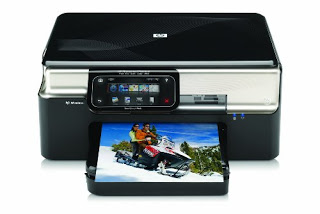 Here are some of the features I think would be particularly helpful to busy moms:
You can print, fax, scan, and copy from one machine.
It can print from multiple computers via built-in wireless.
You don't need access to your computer to print. You can plug in your camera, memory card, or mobile phone to print. Or you can print directly from the web. This printer accesses the internet via wi-fi and has a number of web applications, including google maps, kids' sites, and Coupons.com
But, the thing that made me go, "Ooooh" was this:
The coupons that print from coupons.com are formatted to use paper very efficiently. It even prints out a list of the coupons you printed. I think this is a really handy feature. I'm such a grocery geek!
The list price on this printer is $399, but I think that you may be able to find it for less, especially as the holidays approach. Amazon will not tell you their price, unless you click a few times, but I'll just say that the last time I clicked, it was a fantastic discount. Further more, there is an instant rebate of $60 available at some locations as well as a $50 trade-in on your old printer.
If you're looking to print photos and a lot of web-based items, this appears to be a good product.
Disclosure: I received a free movie and snacks for myself and two guests at this event. However, I was neither required nor requested to write a review about this product. I just thought it was cool and that you might be interested in knowing more.
Encouraged by what you've read? Subscribe to LifeasMOM by email or in a reader and join me on the Road to Joyful Motherhood.