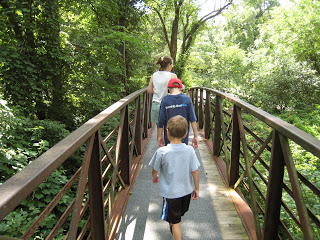 Life is full of surprises, isn't it? You never know what twists and turns will appear in the road ahead of you.
No children, many children. There was a time when we didn't know we could have a second child, let alone six! Wow! God has been so very good to us.
West Coast, Midwest. Never knew I'd be living as far as I could from either coast. Some of my children don't even know what the ocean sounds like. While that is not the end of the world, it does make me more than a little sad.
Extravagant, frugal. Last night we visited the website of our favorite hometown smoothie bar to figure out some ingredients. We were shocked to realize that we regularly (like almost daily) dropped 4 bucks each on a beverage. How far we've come in our thinking about money.
The biggest surprise to me these days is how terribly tired I am. I'm sure it comes as no surprise to you. 8 months pregnant, five children in the nest already. Hello!This should be no surprise.
But, experientially, it is. Usually, my only limitations are my own laziness and selfishness. As in, I'd rather surf the web than do the dishes.
But with four weeks left until our family adds one more sweet soul to its number, I find that I'm too pooped to party. So, push any allusions of SuperFishMama aside. I think I've hit a wall.
This week I'm letting the FishBoys guest blog for me, in a manner of speaking. Over the last week or so, from FishPapa on down, they've spontaneously volunteered post ideas. "You should put this recipe on your blog." "You need to tell them about…." So, look for a daily post inspired by my dear men.
As for me, I intend to take daily naps and enjoy the free time with my brood. This is our last week of summer vacation – the first day of school is August 7, so we'll be organizing and doing some mental preparation for that as well.
Ever since I was a very young child, "my eyes have been bigger than my stomach." That was my dad's way of saying that I always put more on my plate than I could handle. He was talking about food. I'm talking about life. So, I'm going to try to digest all that I have in front of me this week.
As vacation winds down, I hope you, too, will be taking time to just enjoy the days with your kiddos. The minutes flee quickly.
And you never know how the road ahead will twist and turn.