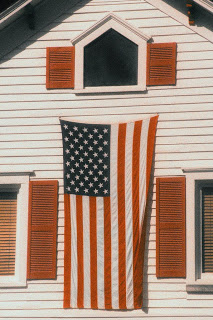 Got some great ideas planned for the Fourth of July? Please share them with us! Post them on your blog and then come back here and share the link.
As for the FishFam, we're going to read The Fourth of July Story and watch Johnny Tremain. Then we'll enjoy our company and some burgers and dogs and summer salads. We'll top the evening off with ice cream and fireworks. Simple but fun.
I've been itching to resurrect this recipe for Macaroon Crunch Pie, so I think I'll throw that into the mix as well. It's not red, white, and blue. Will you forgive me?
What are you going to do this Friday? Share it on your blog, link back here, and then come back and post our link. No blog? That's okay. Leave a comment in the comments section. Can't wait to hear of some fun doings!

Need some more inspiration? Check out these Independence Day links.