Same Stage, New Act: My Goals for 2013
We are a participant in the Amazon Services LLC Associates Program, an affiliate advertising program designed to provide a means for us to earn fees by linking to Amazon.com and affiliated sites. We participate in other affiliate programs as well. For more details, please see our disclosure policy.
Act 2012 is complete. The curtain rises on 2013. How will your role go?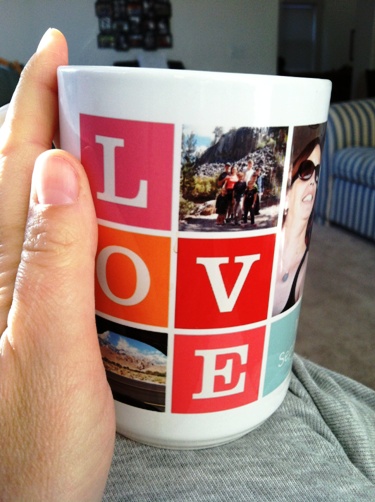 The curtain may have closed on 2012, but most of us still have the same lives, same homes, same joys, same challenges. Our stage, if you will, and our role, is virtually the same. But, a new act begins when we turn the page and enter a new year.
The scene is set for change.
We get a chance to live a better story, to have a happy year, to breathe more deeply, and to stop and smell the roses.
As much as I'd like to believe a wish is all it takes to make those things happen, my forty years' experience in the Story of Life tells me that isn't how it goes. Sure, it's okay to ad lib once in awhile. I'm the Queen of Making Things Up as I Go Along.
Planning and organizing helps, though. Articulating your goals, hopes, dreams, etc does, too, as does devising specific steps to help you get to your goal.
So here is what I'm hoping to find in 2013 and the specific steps I'm going to take:
Outside 365
We walked along the beach one cold evening right before Christmas. We hadn't been in months. I realized how much I missed it. And how much my children enjoyed jumping in the dunes, chasing birds, collecting rocks and shells.
We don't do this enough.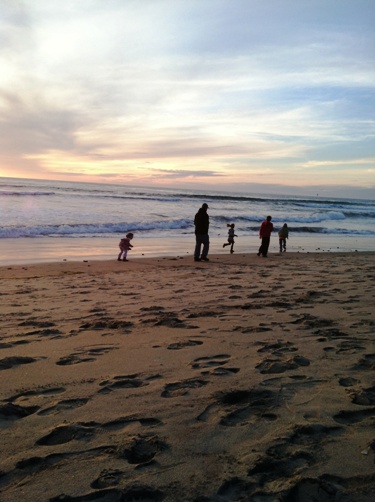 No, we don't. We don't live far from the ocean, maybe five miles of freeway driving. But, it takes a lot of mental effort to get the whole crew loaded up and out on an adventure. I decided since we live in a climate that allows us to be outside 365 days out of the year, then we should really enjoy it.
Here's to getting out of the cave and into nature — every day of the year.
Keep a journal of our outdoor adventures
Map our closests parks, forests, and beaches.
Go walk around the neighborhood at the very least.
Try geocaching.
Countdown to France & England
As you may remember, we're hoping to take the fam to France and England in late Spring 2014 to celebrate our 20th wedding anniversary. This will take a little planning and a lot of pennies.
With about 17 months to go, we need to step up our efforts just a bit. I want to brush up on my French and teach the kids some basic conversation points. We also need to save about $25,000, provided the dollar stays strong, to pay for a month abroad for 8 people.
Get ready for Euro14.
Start a France pinboard.
Keep a notebook or file of my notes.
Write to my French mom and sister more often.
Read blogs about French and English travel with children.
Save money whereever possible. We're doing a Pantry Challenge in January. I'm going to put whatever I save into our France account.

Read more intentionally.
I can get caught up in mindless web-surfing. That's fine, but I find that I feel more productive and encouraged when I've read a real live book. Although I won't be assigning reading this year, I'll still be "booking it." I'll be sharing my reading list later this week.
Read good stuff.
Keep a reading log.
Read for 30 minutes in a book every day.
Ask friends what they're reading and check out their recs. (That's YOU!)
Read with the kids daily/keep a "read aloud" going all the time.
Get fit.
I hate to say it, but I've fallen off the exercise band wagon. My bones cry out that this isn't good. Add in that whole chronic pain thing, and my body says, "Fix me." So, I'm going to try.
Get my body and health back in shape.
Do some type of exercise everyday: ride bike, shred, go walking
Find a doctor to diagnose the pain.
Drink more water.
Get back to watching my diet.
Make my own fruit and vegetable juices.
Eat more veg.

Write, write, and write.
Believe it or not, I have not one, but TWO book deadlines in 2013. Lord help me. Can't share details yet, but I am super excited about both projects. This means my writing plate is very full once you count blogging and other writing projects.
Do a good job on these writing projects.
Clear my calendar of whatever I can. I'm stepping down from some responsibilities to free up time.
Delegate more. My kids ARE learning to cook this year. Oh, and do their own laundry, too.
Set a regular work schedule and stick to it.
Learn to "turn off." I unplugged for almost a whole week over Christmas week. That was really nice!
LOVE.
None of this matters if I don't love the people around me. Whether it's the total strangers I cross paths with out in the marketplace or the peeps that live under my roof, I want to be a more loving, cheerful person.
Part of this means enjoying good times with my husband and kids. Now that my kids range in age from four to fifteen-almost-sixteen, finding an activity that everyone enjoys is getting a little tricky. But it's not impossible, though.
Love people.
Weekly date nights with hubs.
Have more cuddle time with those of my children who will tolerate it.
Monthly dates with each kid individually.
Help those around me who need it, whether I know them or not.
Smile and be real with folks.
So, that's it. Those are my "goals" for the new year. They're the qualities and activities that I hope to experience and share in 2013.
What have YOU got planned for the new year?