As you may remember, Sara Lee and I go way back. She baked many a childhood dessert for me and my siblings. Cherry cheesecake, pound cake, you know the drill. Nobody doesn't like Sara Lee.
But, did you know that Sara Lee does more than make desserts. She's become a well-rounded woman, producing breads as well as deli meats. Who knew?
(The man at Ralphs obviously didn't when I asked him where they were. That may be because Ralphs doesn't carry them. But, lots of other stores do.)
Recently, Sara Lee sent us several coupons to test drive their deli-style meats. The FishBoys, as you know, are meat-atarians, so they were very pleased with the sandwich bar I set up. While we tasted four varieties (roast beef, ham, turkey, and chicken), there are actually 14 different selections to choose from, including: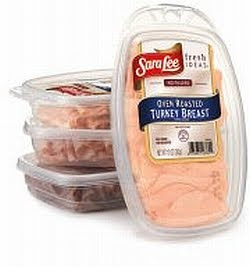 – Hardwood Smoked Turkey Breast
– Honey Roasted Turkey Breast
– Oven Roasted Turkey Breast
– Cracked Pepper Turkey Breast
– Hickory Smoked Ham
– Virginia Brand Baked Ham
– Brown Sugar Ham
– Cooked Ham
– Honey Ham
– Garlic Herb Chicken Breast
– Oven Roasted Chicken Breast
– Roast Beef
– Corned Beef
– Beef Pastrami
Wow! All the men in the family (and that would be SIX if you count four FishBoys, FishPapa, and Uncle Jace) really liked the meats. No complaints whatsoever.
Perhaps I have a pickier palate. The turkey reminded me a lot of Buddig meat. (My brother really liked that characteristic, actually.) To me, the turkey tastes a little processed and is a little too thinly shaven. But, the ham was very good and I would definitely buy that again. Especially to make FishPapa's Favorite Sandwich. Or The Super Secret Sub.
Overall, we were quite pleased with the product. A feature I really like is the packaging. Each meat comes in a resealable, reusable plastic box. I saved ours to pack what else — sandwiches — in for picnics.
Recently, Sara Lee has started offering promotions on her Facebook page. There are lots of details about these meats over there as well as recipes and other helpful information for moms. Be sure to sign up as a fan so you can keep up with all her doings. She's a busy woman, that Sara Lee.
In the meantime, would you like to win a couple packages to try for yourself? 'Cause Sara Lee has graciously offered two free product coupons for each of three winners. Yeah!
There are three ways to enter:
1. Leave a comment telling us your favorite memory of Sara Lee products.
2. Leave a second comment telling us your favorite of my recipes either on LifeasMOM or Good (&Cheap) Eats.
3. Sign up as a fan on Sara Lee's facebook page and come back here, leaving a third comment that you did so.
Comments left between now and Sunday night, 8 pm, PST, will be eligible for winning. Winners will be chosen at random and announced sometime next week. Please make sure that you leave a way for me to contact you in case you win.
*Disclosure: I received coupons for free Sara Lee deli products in order to try the product and offer my readers our first hand experiences. I was compensated in no way other than free samples.