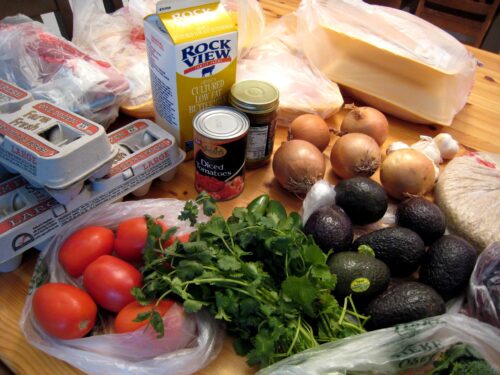 As longtime readers will know, I am a grocery geek. It's rare that I buy groceries that aren't on sale. Well, maybe not rare, but certainly painful. I avoid it at all costs. I prefer to stock up on items when they are on sale rather than pay full price when I "need them."
My shopping and meal planning have evolved accordingly. I plan around what's on sale. If potatoes aren't on sale, we just don't eat potatoes. It's as simple as that.
However, this past week I went grocery shopping for a few items that I "needed" for recipe development and testing. And I just about had a heart attack.
Prices are rising
FishPapa had warned me a few weeks ago that grocery prices would go up, but I hadn't really felt it. In fact, since I was practicing my regular methods of shopping from the sales, I saw no difference in prices. Chicken breast, on sale, is the same price it's always been in my neck of the woods – $0.99/lb for split breasts and $1.99/lb for boneless, skinless.
But, I guess everything else really has been creeping up in price, as I found out on my latest shopping trip. Yikes! What in the world has been going on? The lowest non-sale price on tortillas was 30 cents EACH!
If you aren't stockpiling, shopping from sales, and learning some frugal ways, things could get a bit dicey, sister!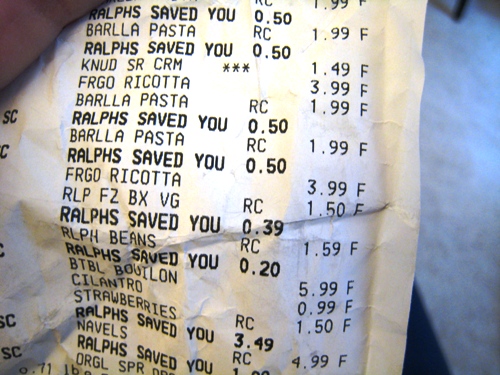 Now, more than ever, is the time to save some money on groceries. Ya gotta eat, right? But, you don't have to pay high prices! Not if I can help it.
I'm currently working a great series to help you save money on food costs. Details coming soon. So, wait for it….
Save Money with Grocery University
In the meantime, let me tell you about Grocery University. But, first, a story….
Years ago, I scoured the internet for help in lowering our food costs. My poor husband thought I had become an addict, reading deal blogs, clipping coupons, and otherwise talking about nothing else but the price of tea in, well, anywhere.
Needless to say, I spent a lot of time learning how to reduce our grocery spending. Within a few months we went from spending $800 a month to feed a family of 7 to $400 a month — all thanks to sales and matching coupons.
While my family has grown in size, age, and appetites, we're still able to keep it well under that $800 mark when I'm conscious of what we spend — and when I don't "need" to get certain ingredients.
Get Your Degree in Couponing In Less Time than I Took
You don't need to spend hours and weeks learning this couponing gig. In fact, my friend Carrie has put together a great audio series that teaches you virtually everything you need to know to lower your grocery spending.
I didn't think I would learn anything new… you know because I generally think I know everything. Ha! But, I was pleasantly surprised with what Carrie put together in this 2+ hour course.
Here's my video review of Grocery University, which explains a little of what this old dog know-it-all had to learn:
I wouldn't give this product such glowing praise, if I didn't think it would truly help you. And I think it will. I don't make infomercials as a profession.
Oh no, no, I don't.
Grocery University is on sale throughout today for its relaunch.

I am convinced that you will easily make that money back (plus some) within the month if you listen to the series and put into practice even a small fraction of Carrie's recommendations.

If you are new to the world of couponing or need a refresher course, this is it! Go here to read more and purchase Grocery University!
Have you seen a rise in grocery prices?
What are you doing about it? Let's chat in the comments.
PS. If you live in Colorado, it is in your best interests to follow Carrie's Springs Bargains and Denver Bargains to keep you up-to-date on your local deals.
Disclosure: I did receive a review copy and am an affiliate for Grocery University. My opinions are entirely my own.