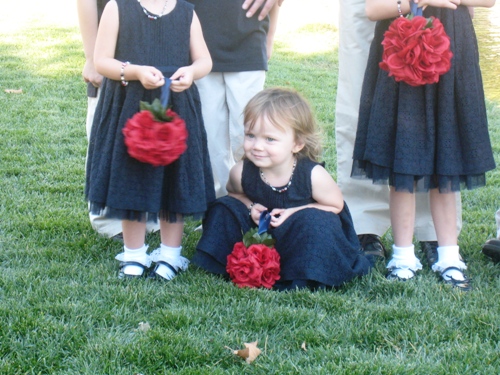 It used to be that I would drive all over town near birthdays and Christmas, spinning my wheels. No, I wasn't doing any fancy Nascar driving. But, I'd go into a store with an expectation of what I wanted to find and leave empty-handed only to go to the next door to have the same thing happen. Again. And again.
However, in the last two or three years, we've discovered the beauty of online shopping. My shopping has been transformed.
Last month in preparation for my sister's reception, I had a fair amount of clothing to gather, with very specific parameters. Little girl dresses to match my nieces' dresses. Navy heels to match my dress. Clothes for the boys. Shoes for the boys…. You get the picture.
And rather than spin my wheels, I sat at my computer. With one hand holding the phone while I consulted with my sisters and the other hand on the mouse, I found everything I needed. Not only was shopping easier this way, but it was less expensive!
Using Shop At Home, I bought the shoes and the dresses and the polos and the pants all at a discount. And I "visited" four different stores without leaving the comfort of my own home: Sears, JCPenney, the Gap, and Kohls.
This past week I used it to order a replacement bicycle for a growing boy. Not only did I get a better price shopping online, but I am also getting 3% back from my purchase. And Walmart's shipping was incredibly fast. Oh my!
Shop At Home provides coupon codes for free shipping and discounts, and when you go through their shopping portal, you also get a certain percentage back on all of your purchases.

This weekend you might want to check out the cash back possibilities as there will be tons of sales in honor of Black Friday and Cyber Monday.
I've had great success on cash-back purchases of items I was going to buy anyway. So this weekend is an ideal time to grab some good deals.
What has been YOUR experience with ShopatHome?