Save Money with Swagbucks
We are a participant in the Amazon Services LLC Associates Program, an affiliate advertising program designed to provide a means for us to earn fees by linking to Amazon.com and affiliated sites. We participate in other affiliate programs as well. For more details, please see our disclosure policy.
Earn prizes and save money with Swagbucks.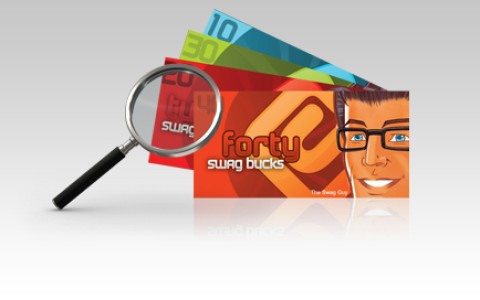 About five years ago, I heard about this search engine called Swagbucks. I signed up with a fair amount of skepticism. But, it turned out to be the real deal. You earn points be referring friends (that's you!), searching the web, watching videos, filling out surveys, and a whole lot of other things.
Our family started searching with Swag Bucks and within a short while we'd earned enough points searching the web, something we do anyway, to get free gift cards from Amazon or Starbucks. It's nice to get rewarded for something you would do even without the reward. It's been a wonderful way to get free books, toys, and freepacinos. One year I even paid for ALL my kids Christmas presents with gift cards I'd won through Swag Bucks. Seriously.
Yes, it took awhile to save up that many, and I was still shopping on a budget, but I did it. The kids helped, too, since I made Swagbucks the main search engine on our computer at the time.
(Like I said, you can also earn points by referring friends. So, if you sign up through my link, you'll be feeding my coffee and book habits. Thank you very much!)
If you're NEW to Swagbucks, you can get an extra 70 Swagbucks in addition to the 30 you get when you complete your profile.
When you sign up, click the text that reads "I have a sign up code" and type in FISHMAMA. That should get you 70 Swagbucks right out of the shoot.
The code is good through the end of the month.
Earning Swagbucks has been a great way to fill in the gaps for our family, especially when cash has been short. The gift cards have helped provide for little fun things that we might not otherwise be able to squeeze from the budget.
How do YOU fill in the gaps at your house?
This is Frugal Friday. In an effort to make these weekly financial discussions more interactive, I'm no longer posting a link-up. Feel free to leave a link in the comments. But better yet, chat with us on today's topic.