Save Time with a Clean Fridge
We are a participant in the Amazon Services LLC Associates Program, an affiliate advertising program designed to provide a means for us to earn fees by linking to Amazon.com and affiliated sites. We participate in other affiliate programs as well. For more details, please see our disclosure policy.
Keep your fridge clean to save time.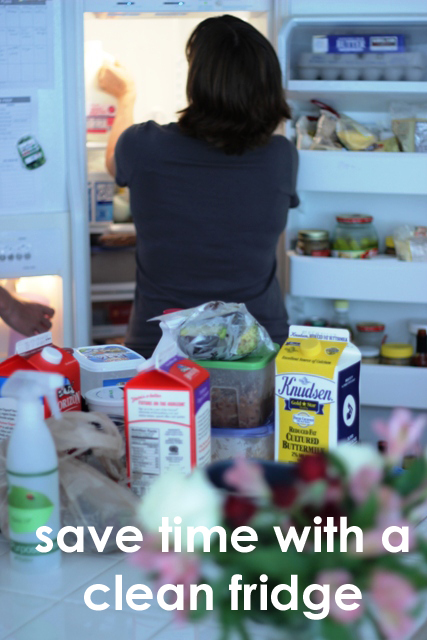 Sometimes we have to spend time to save time. Sounds a little contradictory, but if you invest in something now, you can reap a time savings later. Freezer cooking is like that. So is making your own custom spice blends. Those activities take some time, but you get that time back, plus some later on.
Cleaning the fridge is one of those things.
Yes, really. How many times have you dug around in your fridge, sure that you had the ingredient you were looking for, but it was elusive, hiding behind last week's leftovers. Or how about the times you've had to make an extra trip to the store because stuff went bad because you didn't see it to use it.
If the fridge is tidy and organized a number of things can happen, you can find the ingredients you need right away, making your time in the kitchen quick and easy. A clean fridge promises that you'll find what you need instead of heading out to buy more or spending precious minutes digging for the things that you need.
Cleaning out your fridge on a regular basis will save you time and frustration. And if you really do do it on a regular basis, there probably won't be much to do. You'll be using leftovers and ingredients in good time.
Looking for a little help in cleaning out the refrigerator? Go here. Want to know how a clean fridge can save you money, head here.
This post is part of the Kitchen Time Savers series. You can follow along this month as we explore lots of ways to make more efficient use of our time in the kitchen.

Don't want to miss a post in this series? Subscribe to 31 Days of Kitchen Time Savers here. Get updates via email here.