Wondering how you can save with Amazon? Here are five ways that we save both time and money shopping on Amazon.com.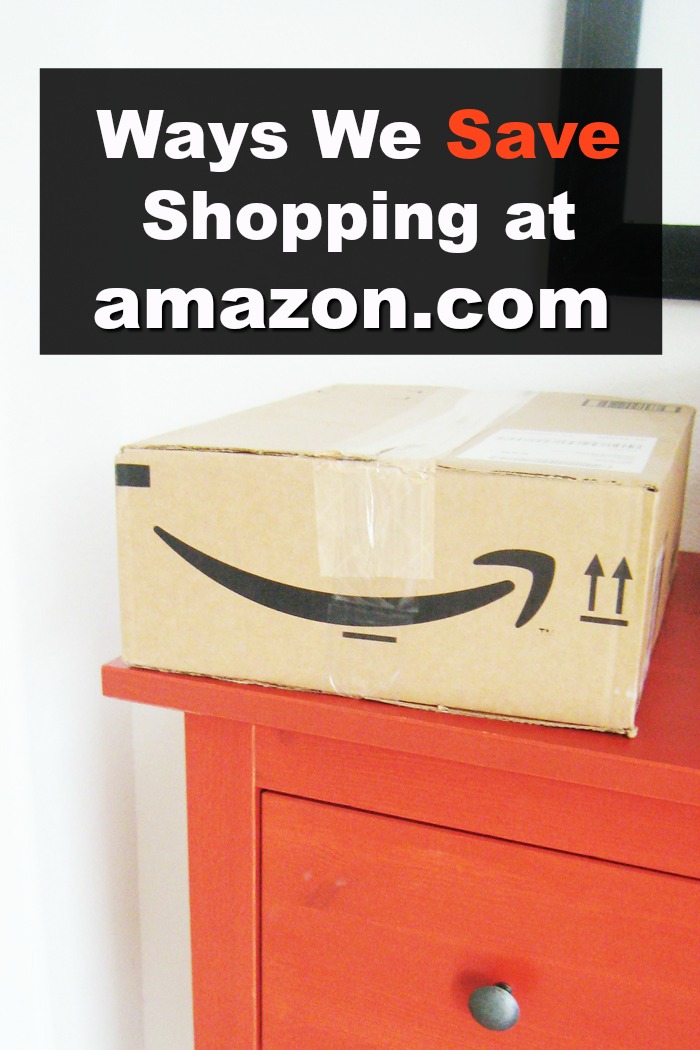 We've had an Amazon account since the good old days when a squirrel in a cage powered the internet. It was super slow to get a connection, and even slower to get our books, but the great price was totally worth the wait! Book lovers that we are, we were hooked with this online bookstore almost immediately.
Fast forward 18 years or so, and Amazon has taken the world by storm. Not only do they sell books at fantastic prices, but they are also purveyors of everything from toilet paper to music to practically everything under the sun, including Runny Nose Shower Gel Dispensers.
While I know some have critiques of the company, I've never had a bad experience with them. I can only tell you what I know: we save with Amazon, both in time and in money. Here's how:
5 Ways We Save with Amazon
1. We buy things at great prices!
While Amazon doesn't have a great price on everything, it does offer very competitive pricing on a lot of things. Sometimes it's a screaming deal, like a PlayStation 4 for A LOT less than everywhere else. Sometimes it's just a few dollars, but every time we can save on a purchase is another time to stretch our dollar a little bit farther.
In most situations, I can find whatever I need for a great deal by ordering it on Amazon — usually cheaper than the competitors. If we find the item cheaper elsewhere, we feel good about buying it because it's beaten Amazon's price.
2. We are better able to research our purchases.
When I asked FishPapa what he liked about Amazon, he surprised me by raving about the reviews. (And I'm not talking about the banana slicer.)
Whenever he's thinking about something he wants to purchase, he spends a fair amount of time reading the Amazon reviews. We save with Amazon — even if he ends up buying the item someplace else as the reviews help him decide if an item is worth buying in the first place. (Sometimes he does buy it elsewhere, but he does so armed with the knowledge that it's a good investment.)
Since Amazon sells so many different models and manufacturers of the same item, you're very easily able to canvass a wide range of items and select the best one without having to leave your seat!

We've been Prime members for a really long time. I can't remember when we started, but it has saved my bacon on so many occasions — particularly those when I realize a child's birthday is coming up in three days and the things they want are better priced on Amazon than in physical stores. I order with Prime and said items arrive in 2-days without our paying extra shipping. Or my chasing around town and paying more for it.
I'd say that my Amazon Prime membership pays for itself in shipping costs, but then we make out like bandits with the Prime Video, the Kindle lending library, and Amazon Prime Music included in our membership.
As a musician, my husband's listening entertainment is important. We've saved a ton of money in music as he's been able to listen for FREE to many of the songs that he otherwise would have paid for.
4. We participate in small promotions.
Every so often Amazon will offer special promotions: a credit to our account when we opt for no-rush shipping — for things that I obviously planned ahead for — a 30% off coupon at the holidays, or a free digital download of a CD we're buying.
In fact, I often kill two birds with one stone. I've purchased movie soundtracks for my nieces that my kids want as well. I have the physical copy shipped (for FREE!) to my nieces and then we are able to download the digital version for ourselves.
HOT DEAL –>
Currently there's a promotion for
a $5 credit when you load $100 to your gift card balance
. Since we  regularly buy things from Amazon — and since there's no bank in the world that will give me 5% on my money! — it's a no-brainer. A few clicks and I've got an extra five bucks in my account.
Keep your eye open for these promotions. They will be present in small banner ads on the site from time to time.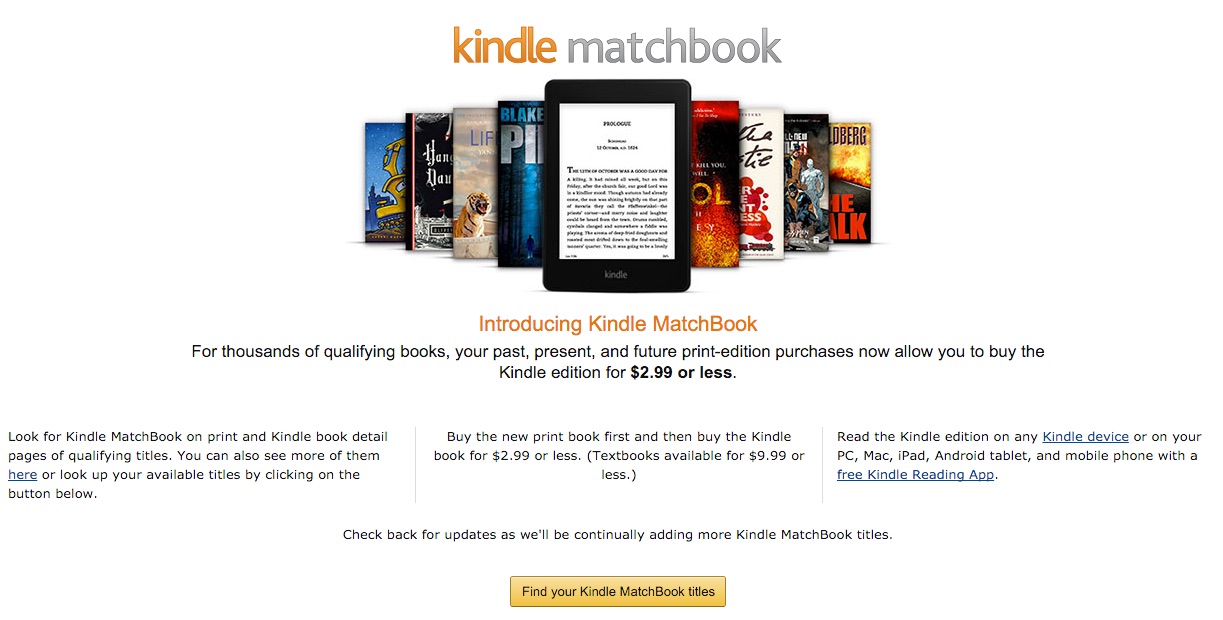 Kindle Matchbook is a service that allows you to buy the Kindle version of physical books you've already purchased, often within minutes of buying the book. You're allowed to purchase the discounted Kindle copy even for books that you've long since lost, donated, or given as gifts. Prices range from 99 cents to $2.99.
I often snatch up Kindle Matchbook items when it's a book I know we want to have multiple copies of or if it's one I might want to have on hand when I'm away from home.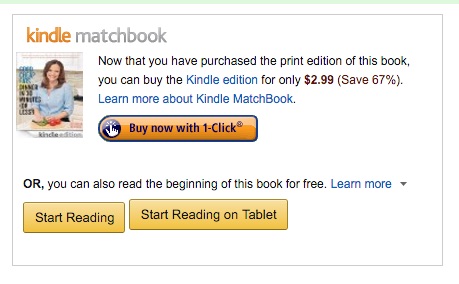 Currently, ALL FOUR of my cookbooks are available in my Kindle Matchbook account for $2.99. Since I no longer have all these recipes memorized, I've got them downloaded to my phone so I can consult them when I'm at the grocery store and want to pick up necessary ingredients.
Check your Kindle Matchbook to see what books are available for you to buy for less than $3!
6. We buy regular household items through Subscribe & Save.
I've told you how we never run out of toilet paper anymore. This is thanks to Subscribe & Save. Save with Amazon when you commit to purchasing certain items at regular intervals through their Subscribe & Save program.
It took me awhile to embrace this, but once I found myself at Walmart late at night more times than I could count buying more toilet paper because no one told me we were out? Well, it was a done deal.
Now I have regular items shipped to the house once a month: toilet paper, laundry pods, coffee, dishwashing detergent, Dramamine, you name it. There's a huge assortment of things that you can buy via Subscribe & Save. When you have more than 5 items in a month's order, you get an additional 15% off.
Plus, you're not begging your husband to go to the store while you wait in the bathroom for toilet paper!
Now, all these great benefits of shopping at Amazon come with one caveat: if you don't have the money to buy the item in question, then you shouldn't be buying it — no matter how cheap our convenient it is!
The ease of a one-stop shopping and delivery service can be dangerous. Shop with caution, but know that if you're counting your pennies, you can do a good job saving them when you shop at Amazon.
How do YOU save with Amazon?