Saving My Milk Money
We are a participant in the Amazon Services LLC Associates Program, an affiliate advertising program designed to provide a means for us to earn fees by linking to Amazon.com and affiliated sites. We participate in other affiliate programs as well. For more details, please see our disclosure policy.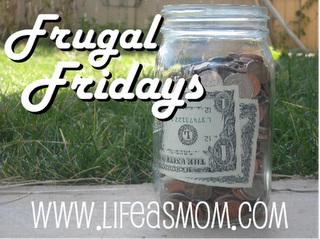 Last week as I recounted our vacation story, I had to laugh about our Krispy Kreme adventure.It definitely was a perfect example of a frugality at work. I would have cringed as a teenager….
It was no big deal. Nothing earth shattering. An hour or two into our drive we stopped at the donut shop for a pitstop. The donuts were HOT, and we all enjoyed the free sample. (Love that melt in your mouth taste!) We also bought a dozen donuts and a coffee for FishPapa.
As I was standing in line to pay, I was contemplating whether or not to buy milks for the kids. We had "mad money" for our vacation, so I could justify it. But buying drinks is not our typical M.O.
I had a light bulb moment when I remembered the gallon of milk that I had packed in ice prior to our departure. I didn't want it to go bad at home since we'd just opened it. So, I packed it, hoping we'd drink it on our trip.
Instead of ordering milks, I asked for some empty cups. They were more than happy to give them to me at Krispy Kreme. And then, since we were eating at a table outside near the parking lot, I busted out my gallon of milk and poured the kids' drinks.
This is something I might not have done a few years ago. I might have been too self-conscious of the fact that I obviously did not buy this gallon of milk from Krispy Kreme. I might have thought that too gauche, too tacky, too frugal.
While I don't think I would be comfortable taking my milk jug into the restaurant, I felt okay about doing this outside. It was a frugal way to have our cake (figuratively speaking) and drink our milk, too. Not only did I save money on our bill, but I also prevented the milk from going to waste during our vacation.
What do YOU do to save money?
Share your favorite money-saving ideas today. Leave a link to a post that shares some frugal wisdom. (Please no giveaways or deals posts. Teach us how to fish!)