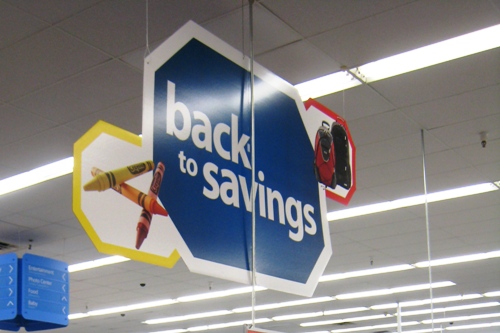 I get into a cold sweat when I see signs for Back to School in the store. Usually, July's fireworks have barely fizzled, when the red, white, and blue displays give way for the school supplies. Ugh!
It's not the "going back to school" part that bothers me. It's that I know we'll need some new supplies and I worry that I will overspend or miss a good deal.
In past years, I've gone out everyday for a week to buy supplies at different stores, hoping that I haven't missed a good deal. And some years I've lived off my stockpile since I overbought the year previous.
Sometimes, you're not always sure what you or your child will need, and then you can find yourself going back to the store again. And let me tell you, harried mothers armed with shopping carts and grumpy kids? Not the kind of people you want to mess with. Especially when you are one of the harried mothers armed with shopping carts and grumpy kids.
And one thing that really frustrates me is to spend time spinning my wheels. Sometimes I hunt all over town and come home empty handed. There must be a better way?!
Where to find the good deals?

One of the sponsors of Back to School Inspiration this week has offered a solution for families heading back to school. Deals.com has created a back to school interface. Give them a little information and Deals.com finds the deals for you so that you don't have to spend valuable time surfing the web.

Simply choose the grade you're shopping for and a multitude of options pop up. Then choose from:
office supplies
shoes
handbags and luggage
clothing
general back to school items
musical instruments
electronic appliances
gift baskets
eyewear
cell phones
athletic equipment
and computers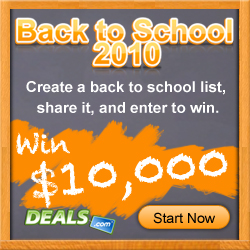 Click the sales that interest you and hit "dealitize." A virtual shopping list shows up to show you where to go to get the best deals for back to school shopping. It will even provide an online coupon code where applicable.
An added feature of Deals.com is that when you share your list with friends and family via social media like twitter or facebook, you're entered in a $10,000 giveaway.
That's a lot of #2 pencils.
How do you find the best deals for back to school?
— Disclosure: Deals.com is an advertising sponsor of Back to School Inspiration. I was  not compensated to make positive comments. My opinions are my own. Please see my disclosure policy for more information.