Public schools and teachers are always looking for school volunteers. Check out these ideas for different ways you can participate at school.
This post is written by Life as MOM contributor, JessieLeigh:
There are likely oodles of ways to help out and volunteer in your child's school. Most classrooms welcome parent help in reading with little ones, organizing paperwork, helping with crafts, and a myriad of other regular tasks.
Beyond the usual PTO/PTA volunteering, there are always many places and areas that could use some extra hands.
Looking for somewhere to volunteer that might also open your eyes to another dimension of the school? Consider one of these five possibilities:
Cafeteria Helper
While you may be used to seeing your child among the 20-ish peers in his class, it's a whole new environment when there are suddenly 150 second graders all gathered in the same space. The dynamic totally shifts and the adult/child ratio is dramatically different from the classroom.
It's a great opportunity to observe our kids when their guards are down a bit. We get to see with whom they choose to sit and chat. We can get a feel for how long they actually have to eat their food. Even more eye-opening, perhaps, we can see just how much food really goes to waste during school lunch. Upsetting though this may be, it's good to know how much you can reasonably expect your child to consume during a given span and, realistically, which foods she's actually going to eat.
Yearbook Photographer
Schools are always looking for people willing to get out there and grab some great shots. This job gives you tremendous "behind-the-scenes" privilege and may allow you to see your child and others during activities you'd otherwise never observe. If you've never actually been at a kindergarten recess? You might be surprised what it's like! It's good to get to see where and how your little ones are able to interact and play. You'll likely also be invited in during special events that are going on at the school and that's another fun perk.
Specials Helper
Especially in the younger grades, extra hands can be a real help during specials like art, music, or PE. I've loved the time I've spent observing children in these environments. It's so wonderful to watch their creative and active sides bloom. Many children who may not thrive in a traditional classroom environment come alive when in a special and it's beautiful to see them in their element.
A project as simple as a leaf rubbing book can become overwhelming for a single art teacher facing 18 five-year-olds, so it's worth checking to see if parent volunteers are welcome. It's not a huge time commitment, but it's a great way to see your child's class in a new environment. Bonus: many times, the specials teachers remain the same throughout a child's time in a particular school, so it's nice to get to know them well.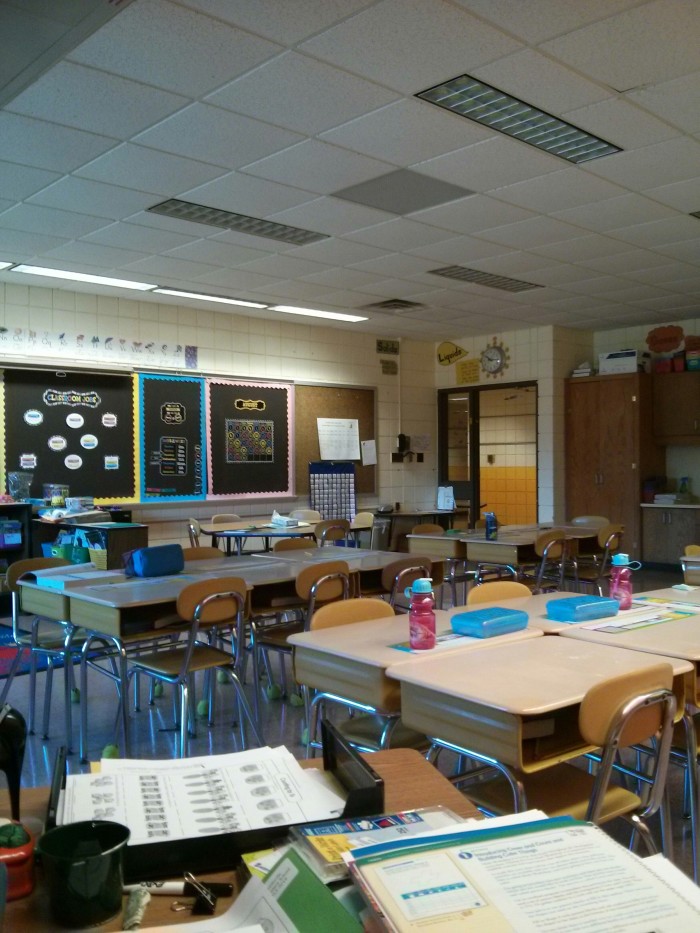 Library Shelver
Yes, library is a special, so this is a bit tied to the last one. Library is unique, though, in that you can be a really helpful volunteer even if there's no class in there at the time. Schools have a tremendous number of books that need to be re-shelved and I've yet to meet a school librarian who doesn't welcome help with this task!
This is a great volunteering opportunity for those who want a quiet, peaceful way to help. Shelving books is typically a solitary pursuit without too much interruption. For some? That's perfect. Not everyone wants to be part of a chatty crowd. If you become a regular library volunteer, be sure to ask about getting your own library card, too. You may discover some great books while you're out in the stacks and it's a nice perk to be able to check them out, if you'd like!
Conference Assistant
No, you're not going to be allowed in the classroom when other parent-teacher conferences are going on, but that doesn't mean you can't be extremely helpful during that time.
Here's the deal– even if the conference is clearly just for the parents and teachers, there will always, always be oodles of kids around. Teachers know this is an inevitable situation and often leave books and/or drawing materials outside their doors, in the halls and corridors. For some children, this works great and is enough to keep them busy and engaged. Others? Might be prone to wander or find mischief.
Having a couple parents on-hand to just walk the halls and make sure everything is going smoothly is immensely helpful. Teachers are able to focus on the people in front of them when they don't have to excuse themselves to go check out whose running footsteps they just heard fly by their door.
While this may seem like a boring or thankless job, keep in mind that conference weeks typically only happen twice per year, so it's not a huge time commitment. Plus, helping out in this type of way will help you get to know a lot of different teachers and they're likely to remember you in a very positive light– that's a win-win!
Helping out in the school is a great way to get to know the teachers and staff and learn more about what goes on during your children's days. As you look for opportunities to help out, don't forget to consider some of these less common, but definitely eye-opening, options.

– A mother of three, including a 24 week preemie, JessieLeigh is a determined advocate for even the tiniest of babies. She can be found celebrating life's (sometimes unexpected) miracles and blessings at Parenting Miracles.
You can read all of Jessie Leigh's posts for Life as MOM here.
In what ways have you volunteered at school?