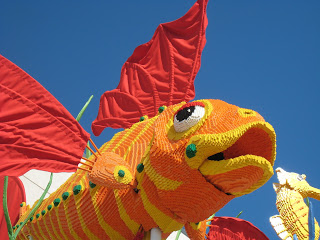 Mothers of sons from sea to shining sea know the pain caused by a small, plastic brick when stepped on in the middle of the night. They know that tell-tale crashing sound that emanates from the playroom when a box of said bricks is dumped onto the floor. In their minds eye, they can picture the havoc created by little boys and a handful of Legos.
Oh yes, yes, you do.
And with the advent of free Lego catalogs, every mother of a young son knows that somewhere in California there is a land where the Legos run free, where they frolic to and fro, waiting for children to come build with them. That distant world is called Legoland.
And who knew, but God, when I had four boys and finally let a Lego set brick in my house that we would someday live within driving distance of this Builder Boy Mecca. Back in May I shared our fun experience at Legoland and all my meditations thereof.
Recently our family had the opportunity to visit the SeaLife Aquarium, one of the attractions at the Legoland Resort in Carlsbad, CA. Merlin Entertainment very graciously granted the FishFam complimentary admission so that we could tour the facility, visit the fish, and build a few bricks. We were also treated to lunch at the Ocean Journey Cafe. We ate al fresco in the cool ocean breeze and definitely made some sweet memories.
What a fun jaunt for our family!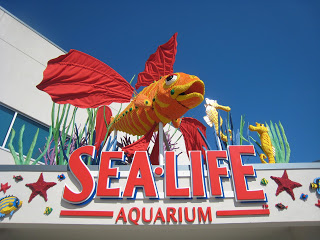 SeaLife California is actually part of a larger family of 29 other SeaLife Aquariums worldwide. It has a history of being an interactive exposure to sea creatures. The facility features a quiz trail which really appealed to the readers in our group as well as play zones, including a slide and brick stations where little ones can do what they looooove to do – play with Legos.
Our kids really enjoyed seeing the fish up close and personal. It was so fun to hear FishBoy5 and FishChick2 laugh and laugh at the sting rays swimming by just inches in front of their noses.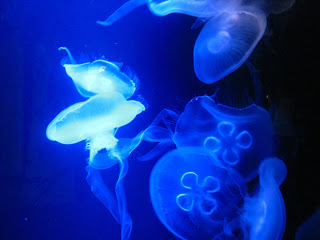 Some observations from our time at the Aquarium:
There is a wide variety of sea creatures represented with plenty of "fun facts" around. Unlike other educational attractions where the signage has been small and uninteresting, the signs were big and colorful enough here to attract the attention — and reading ability — of my early readers. This made it truly interactive for them. My older boys loved answering the quiz questions and marking their answers on the scratch cards we received at the entrance.
The facility is immaculate, just like its amusement park counterpart, Legoland. The bathrooms were even moreso which was a definite plus with a potty training toddler in tow.

Whimsical and fun exhibits are characteristic of this aquarium, each with some kind of Lego creation to accent the display. I loved the little bubbles that you could crawl into so it looks like you're in the fish tank! Different rooms resembled different areas of life at sea. I particularly liked the imaginative Lost City of Atlantis as well as the submarine-like exhibit.

1-2 hours is all it takes to tour the aquarium, however feedings are staggered throughout the day, so you may want to plan your time accordingly. We missed the "Breakfast with an Aquarist," but a mom I spoke with said it was definitely worth a trip back. That feeding (9:30, daily, all summer) is in the Ocean Journey Cafe where an admission is not required, so we could easily swing that.

The food at the Ocean Journey is very good for amusement park dining. Most menu items are on the healthy-side, featuring organic ingredients. We were there just as they were preparing for lunch and had the opportunity to see them making most things by hand. There is a salad bar, a hamburger station, a sandwich bar, and a build-your-own mac and cheese. I was particularly pleased to see the YoBaby products, including their new baby food meals. What a plus for the mom who forget to pack snacks for the baby! Of course the prices were "amusement park prices," but for a vacation splurge, it's quite reasonable.
The staff is very courteous and polite. I found some of the younger docents a little reticent with information unless asked. Most people probably aren't as school bookish as I am, but since I hadn't brushed up on my sharks and sting rays, I wanted my kids to know what was what. Thankfully, FishPapa is a certified scuba diver and a fish-ophile, so he knew quite a bit. If you don't have FishPapa along, prepare to ask lots of questions if you want to get all the goods.

It probably wouldn't have been within our family's budget to make this a stand alone outing if we hadn't received complimentary tickets. With a family the size of ours, we have to stretch a buck as far as it would go. My husband pointed out that for most "normal-sized" families, the cost would be close to what you'd pay to see an evening movie. (He's great about putting things in perspective for me.)However, if we were planning a vacation that included Legoland, I would consider a 2-day hopper ticket. Having experienced Legoland and been there from opening to close and not exhausting all the possible entertainment, I know that my kids would rather do rides than do something that was clearly more "educational." I think if you were making Legoland a two-day experience, there would definitely be time on the second day to take a quieter — and cooler — meander through the Aquarium. It is definitely a peaceful locale and would be a welcome break from the noise and confusion of the larger park.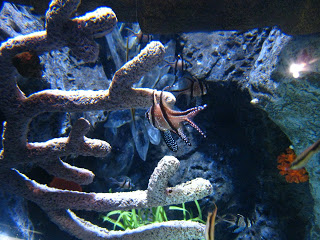 So, you ready to go? Because I have four passes to SeaLife Aquarium to give away this week. Talk about your Christmas in July! These expire on New Year's Eve, so you'll be able to use them if your San Diego travel takes place after summer's end. And if you won't be able to make it to my neck of the woods before 2010, you can always send them as a gift to someone who will. Either way – what fun! THIS GIVEAWAY IS NOW CLOSED.
Here are the three ways you can enter to win:
1. Leave a comment on this post, telling us your favorite fish-related memory.
2. Tweet or blog about my Christmas in July series and bring the link or your twitter id back here and leave it in a second comment.
3. Subscribe to LifeasMOM in a reader and leave a third comment, telling me you are a subscriber.
Comments left between now and 8 pm PST on August 1 are eligible to win. Winner to be chosen at random and announced early next week. Please make sure you leave an email address on each comment.