Several years and four children ago, we lived in a more rural community on a two-acre parcel of weeds land. We did our best to "take dominion" of that land, and I had a great time learning to garden. Wow! That was fun! Then life got busy and then busier still. With a baby or toddler constantly in tow, my dreams of a vegetable garden have often sat on the shelf. I'm hoping that this year is our year to get our green thumbs back.
If you're itching to plant something, want to grow your own food, or simply want to teach your children about nature, cultivating a home garden is a very fine thing.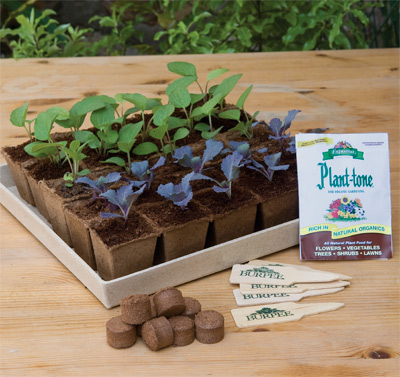 The folks at Burpee are offering five LifeasMOM readers an Eco-Friendly Seed Starting Kit:
Kit includes:
• Fiber Planting Cells- Compostable
• Bamboo Watering Tray- 6 month Compostable
• 25- Sustainable Burpee Super Growing Pellets
• Biodegradable germination sheet
• 6 Wooden Plant Labels
• 1 oz. package of Espoma organic fertilizer
Gardening is a great opportunity to get back to nature and dig in the dirt with your children!
To enter this giveaway, simply leave a comment on this post, telling us a gardening memory you have or one that you hope to create with your children. Please leave an email contact so that I can find you if you win. Contest will be open until Sunday night at 8 pm, PST at which time the comments will be closed and winners announced shortly after that.