Serving a Bella Notte Pasta Supper in conjunction with a screening of Lady and the Tramp is a fun way to extend the movie experience. Win a copy of the video this week.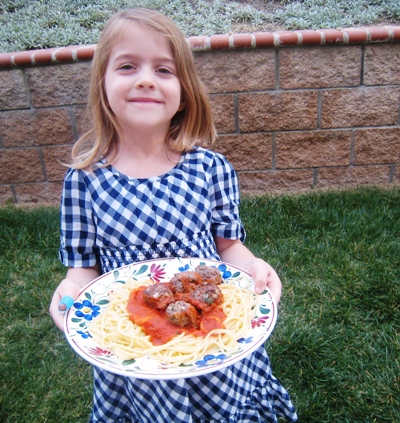 I'm a sucker for themes. I love to have dinner match a movie or dessert match a book. I love it when my littles and I read snow stories before heading to Mammoth. Call it "making all of life educational." Call it making connections. I dunno. Call it goofy. But, I think it's fun.
And typically, kids do, too.
We've baked themed cakes for birthdays for years. I bought Bertie Bott's Every Flavored Beans for our first screening of Harry Potter. We've read stories about pumpkins and then visited the pumpkin patch.
Linking imagination to every day life makes the pretend more real and more memorable.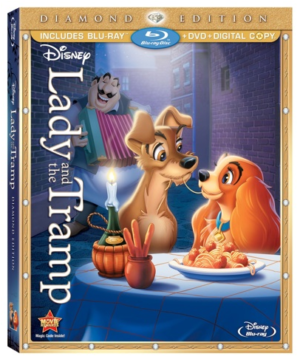 Recently I received a review copy of the newly released, Lady and the Tramp Diamond Edition on Blu Ray and DVD. We don't have a huge video collection, but we really love Disney and Pixar movies, so those are keepers in my book. If you like to own movies, grab this one while you can because Disney films are hard to come by in the years after a release. I don't know how they measure it, but Disney does a great job helping their videos hold their value.
The Blu-ray includes a number of bonus features which add to the story behind the story. These include:
Disney Second Screen: Inside Walt's Story Meetings
Diane Disney Miller: Remembering Dad
Three Never-Before-Seen Deleted Scenes
Never Recorded Song: "I'm Free as the Breeze"
Lady's Pedigree: The Making of Lady and the Tramp
Finding Lady: The Art of the Storyboard
Original 1943 Storyboard Version of the Film
PuppyPedia: Going to the Dogs
"The Siamese Cat Song," Finding a Voice for the Cats
"Bella Notte" Music Video
Trailers
Excerpts from "Disneyland" TV Shows
Along with the DVD, we received everything we needed to have a "Bella Notte" Pasta Party, from tablescape to activity pages to grocery money. Very fun for my girls who had never even seen the film.
THAT gave me pause since Lady and the Tramp was once FishBoy14's favorite movie. About ten years ago.
My younger kiddos, 3, 5, 7, and 9 thoroughly enjoyed this film. All FOUR times they watched it. Clearly, it's a new favorite with my younger set. I find it amazing that a film from the forties can have such long lasting appeal.
Host a Bella Notte Pasta Party
I don't really know many kids who don't love pasta. What's not to love? I even have one little girl who insists on spaghetti and mandarin oranges whenever we splurge at Red Robin. She even chose that as her birthday supper.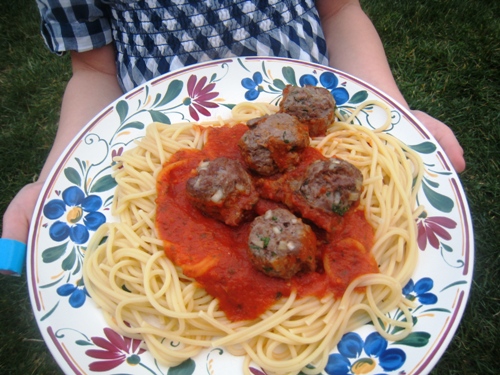 A pasta party is a great thing to serve to a family party or to a larger gathering of friends and family. Here's a simple menu for a little themed dinner party:
red sauce, like Crockpot Red Sauce
Cooked spaghetti and/or spaghetti squash
Spinach salad
Gelato, for dessert
This kind of food is very kid-friendly and so simple to prepare, especially if you make the meatballs and red sauce ahead of time and freeze them. It's also fairly economical, too.
A fun addition to the party are the different resources and free printables made available by Disney (in the above widget). You can read the Lady and the Tramp story online, print coloring pages, download recipes, watch videos, and even print free Valentine's cards.
This week I've got one copy of Lady and the Tramp Diamond Edition to giveaway to one Life as MOM reader.
To Enter:

This giveaway is now closed. Congrats to the winner: MPrahl1331@

Simply fill out this form with your name, mailing address, and email contact.
Please note this information is being gathered solely for administrative purposes to send the winners their prize. This information will not be given out, sold, or otherwise shared with any other sources.
This promotion is open until Sunday, February 19th, at 8 pm PST and is limited to US residents, 18 years or older. Friends and family of Jessica Fisher and Life as Mom are ineligible for entry. The winners will be chosen randomly and notified via email. Please respond within 48 hours to claim your prize. This post will be updated with the beginning of the winner's email addresses. The prize for this promotion is provided by and shipped by Disney Pictures and/or its representatives. Jessica Fisher and Life as MOM will not be held responsible for unclaimed or undelivered prizes.
Disclosure: I received a review copy of the video as well as the other items referenced above. This post does contain affiliate links. However, all opinions are my own.
What would you serve at a pasta party?