Set up a breakfast bar before you go to bed to save time in the morning.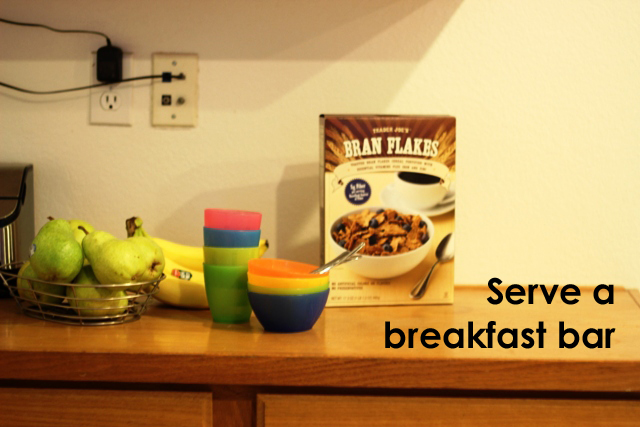 A few years ago I realized how very much my children enjoyed the breakfast bars at hotels. There they encountered an array of options, all pretty much self-serve, and they were in heaven. In heaven.
Enter the breakfast bar. I started creating the same type buffet at home.
This is so easy to do, you'll wonder why you never did it sooner. Before you go to bed, lay out cups, dishes, and spoons as well as an array of breakfast items. Check out this list of breakfast bar items. (There's a long list of recipes and ideas over there.)
You can lay out the cold stuff in the morning or set up a tray in the fridge with spreads, cream cheese, milk, and yogurts. Then assign someone to pull the cold stuff if they wake before you.
Your children and spouse can serve themselves breakfast. You are no longer the short order cook. And you make it the responsibility of those old enough to make sure they get themselves fed before it's time for school and all that stuff.
Serving a breakfast bar will save you time and make your mornings easier.
This post is part of the Kitchen Time Savers series. You can follow along this month as we explore lots of ways to make more efficient use of our time in the kitchen.

Don't want to miss a post in this series? Subscribe to 31 Days of Kitchen Time Savers here. Get updates via email here.