Breakfast in bed is a wonderful treat for visiting guests, birthday boys and girls, and parents on their special days. Here's how to pull it off with style and ease.
All photos by Heidi
Last weekend, a few friends and I journeyed to Charles City, Virginia. We stayed at the Peace Hill Bed and Breakfast, probably the nicest B&B I've ever visited. Of the many perks of our stay was the coffee tray brought to our rooms each morning.
What a lovely sound — to hear a light knock on the door and a slight clink of glass as a tray laden with biscotti, strawberries, coffee, cream and sugar awaited me when I opened the door! Talk about your ultimate luxury!
Serve breakfast in bed.
It's also a great thing to do for the people you love. A breakfast-laden tray is a delightful way to bless visiting guests or a celebratory treat for birthdays, anniversaries, and special occasions, like Mother's or Father's Day.
Wondering how to pull it off in style? Here's a quick tutorial to serving breakfast in bed.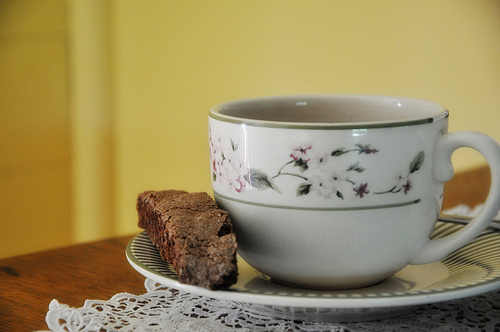 How to prepare a lovely breakfast in bed:
1. Think drink.
Serve coffee in a carafe or hot water in a pot alongside a selection of teas. Include an array of sweeteners like sugar (cubes are always special) and honey as well as a tiny pitcher of cream. A small glass of juice and/or water with lemon slices is also a nice touch.
2. Include fruit.
Fresh fruit is a happy breakfast side dish. Berries, melon, and pineapple are ideal. Sectioned grapefruit is nice, too. Take a few minutes to arrange them prettily on a china dish.
3. Bake someone happy.
Scones, biscotti, or muffins are lovely additions to a breakfast tray. You can even make them ahead of time and freeze to save time in the morning. You can buy something yummy at the bakery or grocery store, too.
4. Include some protein.
While a hot bacon and eggs breakfast is hard to time for serving in bed, you can still include protein in your celebratory breakfast. Think yogurt, cottage cheese, nut-filled granola, or a small cheese plate. A dish of nuts goes well, too.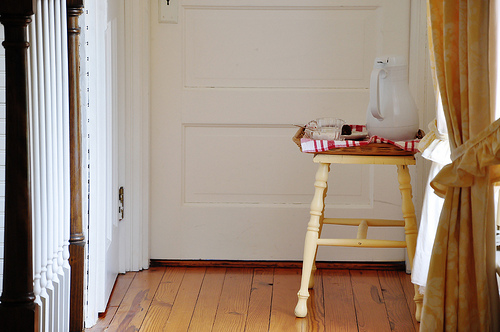 5. Add a special touch.
Take a moment to lay a pretty tray. The morning paper, a fresh flower, and a cloth napkin make it extra special. Slicing the butter into pats and serving the jam in small pot do, too. Think what would please the one you're honoring and include that in this breakfast gift.
(A small Lego set or baby doll might please a young child more than the Wall Street Journal.)
Breakfast in bed is like a meal fit for royalty. It shows that you've taken extra thought and effort in honor of someone else. And it's a luxurious treat to wake up to! Consider making it a birthday, holiday, or company tradition in your home.
Disclosure: My accomodations at the Peace Hill Bed & Breakfast were complimentary, but I am not under any obligation to post about my stay. All opinions are my own.