This is Day 24 of the Kitchen Time Savers series where we're chatting about ways to save time in the kitchen.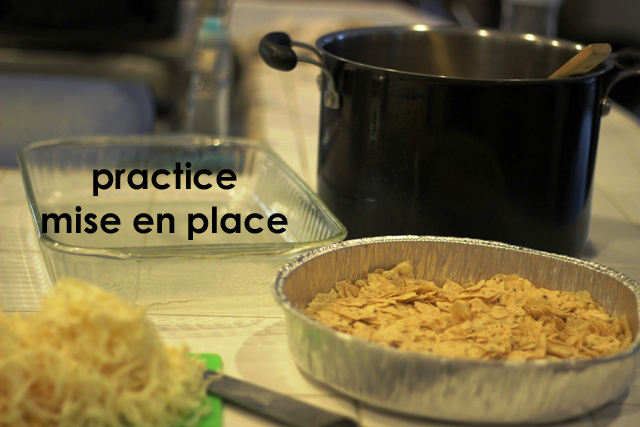 There's a culinary term, a French one, mind you, that makes a ton of sense. It's called mise en place.
It basically means "set up everything you need to create the dish so that you aren't running around the kitchen looking for things, and chopping food on a plastic plate when you should be using a cutting board and a good sharp knife."
Well, that's a loose translation. Literally it means, set up.
Set things up so that they are right at your fingertips when you're preparing the dish. You'll be more focused. You'll have what you need. And you won't be running around your kitchen like a crazy woman or chopping on random surfaces because you're cutting too many corners.
You get bonus points if you start with a sparkling clean kitchen. Setting up your ingredients on the counter void of visual clutter is a perfect recipe for a great cooking experience. It will go quickly. It will be fun. And those things are half the battle toward a great meal.
Set up your cooking space to save time in the kitchen.
This post is part of the Kitchen Time Savers series. You can follow along this month as we explore lots of ways to make more efficient use of our time in the kitchen.

Don't want to miss a post in this series? Subscribe to 31 Days of Kitchen Time Savers here. Get updates via email here