*****We interrupt our regularly scheduled program to bring you a breaking news story.*****
As you may remember, our family loves ChickFilA, particularly the waffle fries and freshly squeezed lemonade. But, taking 8 people out to eat is an occasional treat in our family. ChickFilA, however, tends toward generosity. They often offer free meals and treats throughout the year. And that is when we load up our herd and head out.
Every year ChickFilA hosts "Dress Like a Cow Day" and offers free meals to those dressed like cows. Each year we make an effort to get our cow on and make a fun day of it.
This year we decided to enter ChickFilA's Photo Contest on Facebook.
Do you know how many cows it takes to photograph six children at the beach?!
It's a memory in the making, to be sure.
Well, thanks to great readers and friends, we are finalists to win free ChickFilA for a year!
Needless to say, I'd love your help in spreading the word about our photo. This is the real one: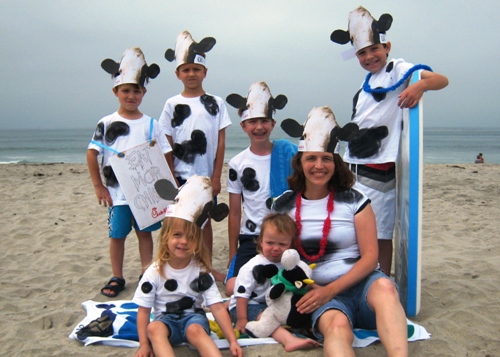 We're the folks from COW-lifornia, remember?
Just click LIKE under our photo in order to give us your support. Voting ends tomorrow, so we would most certainly love your votes.