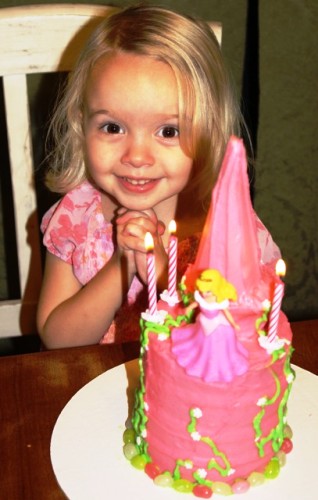 Meet my niece, Lucie. Isn't she beautiful?
Anyway, imagine my surprise when I saw this picture of her birthday cake on my sister's blog. Remind you of something?
I was so touched and honored that Janel tried out the Rapunzel cake that FishChick had on her birthday. And I loved it that she made it special for Lucie by making it her favorite color and adding one of her favorite princesses. So fun!
I would love to know if YOU have tried something that you've read about here on LifeasMOM.
Share your LifeasMOM experiments!
Have you tried out something that you've learned here at LifeasMOM? Tell us about it.
Ideally, I would love to share your embellishments and adaptations in a post of its own. So, use this submission form to send me your photo, link, and a brief description of whatever cake, project, or family fun activity you've tried at home.
I can't wait to see what you've been up to!