Share Your Turkey Tradition
We are a participant in the Amazon Services LLC Associates Program, an affiliate advertising program designed to provide a means for us to earn fees by linking to Amazon.com and affiliated sites. We participate in other affiliate programs as well. For more details, please see our disclosure policy.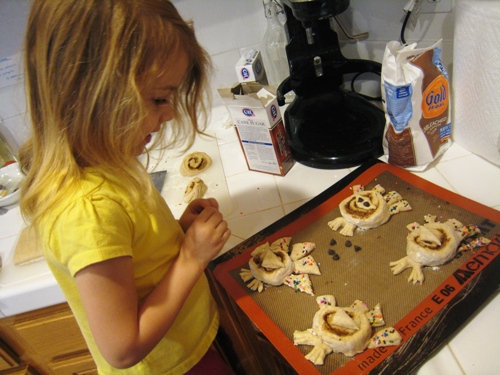 Our family's main Thanksgiving turkey tradition involves food. You might think it would be the actual turkey, but it's not.
Our menu is more or less the same each year, including foods that we eat only at the holidays, like Pretzel Berry, my favorite Streusel-Topped Pumpkin Pie Recipe and these Turkey Treats.
My kids love the big feast day. But more importantly, they love our turkey tradition. I get up early in the morning to make the dough, or cheat and buy canned biscuit and cinnamon rolls.
The kids get all crazy with the sprinkles, and there's all kinds of humming* going on at the table. It's hilarious. (My kids hum when they are enjoying their food.)
Other traditions might including building gingerbread houses, playing card games, watching movies, or taking a neighborhood stroll. But, I don't think we have an every year ritual — aside from eating.
Do you? I'd love to know and be inspired.
Do you have a turkey tradition?