She's So Fancy, That Nancy
As an Amazon Associate I earn from qualifying purchases. For more details, please see our disclosure policy.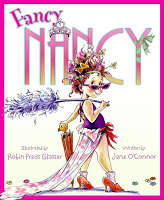 Not too long ago, I asked readers to challenge me with a birthday cake theme. There were some very clever suggestions, the top two in a readers' poll being "Breakfast" and Fancy Nancy.
Breakfast I know, but being that my children who speak in complete sentences are all boys, I had no clue who or what Fancy Nancy was. Turns out she's a young girl with a passion for accessories and all things "fancy."
I decided to do both the top two cakes. And yesterday was Nancy's turn. Are you ready? (Stay tuned for how I put a breakfast plate on a cake.)
Now remember, I'm working with a handicap – I haven't been challenged by many girly likes or dislikes yet. My daughters are 2 and 5 months.
For Nancy's cake, I made a purse filled with edible accessories: rings, gold coins, bracelets, sunglasses, a wand, and a mirror. I went against my personal dislike of purple and made the cake a lavendar hue since I know little girlies like purple. (That's right, isn't it?) I tried to use a heavy hand on the sprinkles and sparklies because those seem fancy.
Anyway, here it is: my Fancy Nancy Birthday Cake!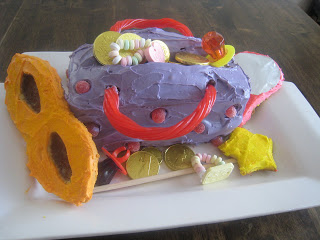 Let me know how I did.
Related: Don't forget! Bday Cake Round-Up on the 29th. Bring your links!