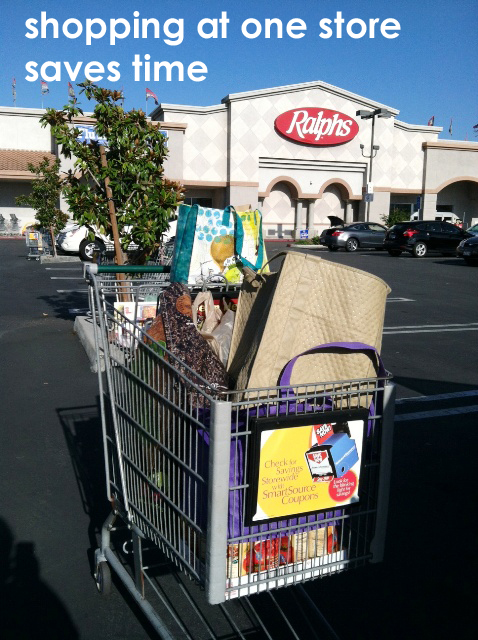 It's true that you can save money by buying only the best priced items at each store. It's called cherry picking, and it's one means that I've used over the years to stretch a buck. I have a list of go-to items for Costco, Walmart, Ralphs, Trader Joe's, and Sprouts, my five main stops.
However, grocery shopping can take a lot of time and fuel if I make all the rounds each week.
Today, on a Friday of a very long and tiring week, making the rounds to restock our rations did not appeal to me. I'm exhausted. And I didn't really want to spend a lot of time shopping. So, I made the best decision for me this weekend: I shopped at one store.
And this week, Ralphs was the one-stop shop. While Walmart was closer and has some cheaper prices on some things, a weekend shopping trip at Walmart is a recipe for frustration. Sprouts was too pricey for the things on my list. Trader Joe's doesn't even carry some of the things on my list. And Costco on a Friday afternoon? You think I'm insane? Not yet.
Did Ralphs have everything I wanted? No, chicken was recalled, but that might be the case everywhere.
Did everything have a GMO-free guarantee like I would have gotten at Trader Joe's? Unfortunately, no, but I find that traditional grocery stores near me are usually empty, so I experienced crowd-free shopping.
Did I get the best prices on everything I bought? No, but I got good prices on everything, plus I had a ton of store coupons to use on those very same things.
While it might not have been the very cheapest way to stock up, it saved me time, mental energy, and frustration to shop at one store instead of chasing all over town.
I'm kinda tempted to make this a habit for a few weeks and just take a load off!
What works for YOU?
Disclosure: This is not a sponsored post. Ralphs does not know who I am. It really is one of my favorite one-stop shops.
This post is part of the Kitchen Time Savers series. You can follow along this month as we explore lots of ways to make more efficient use of our time in the kitchen.

Don't want to miss a post in this series? Subscribe to 31 Days of Kitchen Time Savers here. Get updates via email here.