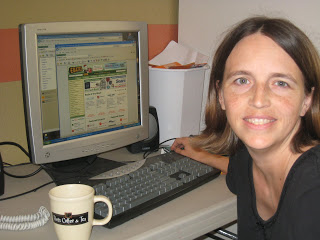 Shopping from home last Christmas. I think I'll do it again!
I have always loved the day after Thanksgiving — for the leftovers and the great deals to be had. In years' past I've often hit the stores on Black Friday without a clue as to where I was going or what I was getting. Thankfully, with the wrinkles and age spots, I've also gained a little shopping savvy. The world wide web is your place for a head's up on Black Friday Deals!
Here's what I can see from where I stand:
**Amazon started their Black Friday sales yesterday. Browse their specials and perhaps you'll be able to cross a few gifts off your list. (And if you've been using Swagbucks, you can trade your points in for Amazon gift cards.)
**ShopAtHome.com also began some fun things yesterday.
Follow them on twitter and your retweets can earn you some great prizes, including a $100 Home Depot Card.
More than 100 of their featured retailers are offering DOUBLE cash back this holiday weekend, including 20% cash back from The Gap, 20% back from SnapFish, and 14% back from Barnes&Noble. With a few clicks of a mouse, you save time, gas, sore feet, and some cash!
**Check out the huge catalog of Black Friday Deals at AFullCup! Thanks to their CVS sneak peek, one FishBoy is pretty happy to be scoring a very inexpensive MP3 player this week with his birthday money.
** Ebates is also offering double cash back at select stores, like 15% at Shutterfly and 10% at Old Navy.