Shopping at Scratch and Dent Stores
We are a participant in the Amazon Services LLC Associates Program, an affiliate advertising program designed to provide a means for us to earn fees by linking to Amazon.com and affiliated sites. We participate in other affiliate programs as well. For more details, please see our disclosure policy.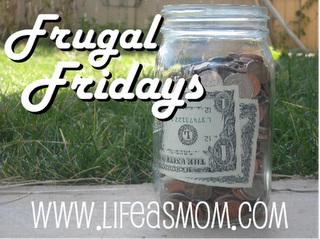 – Today's Frugal Friday Tip is brought to you by Carrie from Springs Bargains –
What comes to mind when you think of scratch-and-dent stores? Mom's stern warnings about never buying dented cans? A bad experience with stale crackers?
Or, the excitment of finding a favorite food that had been discontinued? The thrill of discovering your favorite chocolate candy at 75% off?
Scratch and dent stores can be incredible places to find bargains on all sorts of items, but of course, you'll want to be savvy about shopping there.
Here are my top five tips for shopping smart at scratch and dent stores:
Know your prices.
While there are some steals to be found at scratch and dent stores, you must know your prices before you go. There's nothing worse than buying an expired jar of mustard for $2.00, only to find it on sale (and unexpired) at your local grocery store for $1.50 the next week.
Most scratch and dent stores base their prices on regular retail, and usually hit about 50% off the shelf price. However, if you're an extreme coupon shopper, or even just a smart bargain hunter, you know that you can often get items on sale for less than 50% off. In my experience, the food deals are good; but health and beauty products are often not as good of a deal.
So, make sure you have a good grasp of your grocery store's prices before you go to a scratch and dent store so you don't get ripped off.
Know what's OK to eat expired… and what's not.
A lot of items at a scratch and dent store are there because they are expired, not necessarily "scratched" and "dented". There's an awful lot of food that is just fine expired, but there's a few things tht are usually better to buy fresh.
I once made a meatloaf using an expired, but unopened box of crackers. Eh, I thought, they're still sealed – surely they'd be OK in meatloaf, even if they're a year past their best by date.
The stale cracker meatloaf is one of the two meals my husband has refused to eat in our seven years of marriage. It was bad.
So, when I saw a huge pallet of of Wheat Thins for 99¢ per box at a local scratch and dent store, I nearly started filling my cart before I remembered to check the date. As soon as I saw that they were a year past their best by date, I put them back as quickly as I'd picked them up.
Recently I found an amazing deal on tortillas, but I waffled about whether or not to buy them since some were a month or more past their sell by date. I went ahead about bought several, and while they were a little dry straight out of the package, they were great as long as you warmed them before folding into burritos.
Be wary of anything that gets stale (crackers, cereal) or rancid (oil, salad dressings). Obviously, stay away from anything that tends to mold rather than dry out. In my experience, most scratch and dent stores don't sell things that mold, but do be careful.
Have a specific purpose for everything you buy.
One of the pitfalls of any kind of bargain shopping is that it's easy to become infatuated with the amazing discount and lose sight of whether or not you actually need the item. This is super easy to do at a scratch and dent store – if you see tortillas for 79¢, it's easy to recognize that as an amazing deal and then purchase way more than you could ever use before they truly dry out past the point of no return.
So, before you go crazy buying good deals at a scratch and dent store, make sure you have a specific plan for those items.
Get to know your store.
You'll want to get familiar with your store: know what they have all the time, and what is truly a must stock up item. No need to purchase dozens of cake mixes at 50¢ each when they have them in stock 365 days a year.
If there's a specific item you're looking for, you may be able to talk to the manager and see if they can contact you if and when those products come in. They may also tell you what days they typically get new loads in.
Think creatively and generously.
Scratch and dent stores often carry undamaged, non-expired products that are simply out of season. One of our local scratch and dent stores recently had hundreds of bags of Easter candy. Not a thing wrong with it, except most people think it would be sacriligeous to give out pink and blue Hershey's Kisses at Christmas time!
So, think creatively! Easter candy typically comes in blue, pink, green, and yellow. All of those colors could easily be re-purposed for a baby shower. Blue and silver is a trendy Christmas color scheme. And, no one ever sees the colors of the Hershey Kiss wrappers for those traditional Peanut Butter Blossoms!
Don't forget to think of others as well: you may be able to find items such as lip gloss, hair clips, and small trinkets to use in Operation Christmas Child boxes or as stocking stuffers.
What are your best tips for shopping at scratch and dent stores?
Any amazing finds or bargains-gone-wrong experiences?
— Carrie Isaac is on a mission to visit all of the scratch and dent stores in Colorado Springs and Denver! She shares money-saving coupons and discounts in Colorado Springs at Springs Bargains and is excited to be launching Denver Bargains in just a few weeks!
Do you have a bright and frugal idea that you'd like to share with LifeasMOM readers? Read the guest post guidelines and bring it on!
How do YOU save money?
Share your favorite money-saving ideas today. Leave a link to a post that shares some frugal wisdom. (Please no giveaways or deals posts. Teach us how to fish!)