Want to be in the inner circle?
Ha! No cliques, here. Only this kind:
I want to send you extra stuff — just because I like you. I started a personal blog over ten years ago and posted things I thought were helpful, just because I wanted to help. I still do.
While I may have books I'd love for people to buy, my mission is still the same: to help people.
On Life as MOM, it's specifically to help moms.
To help YOU.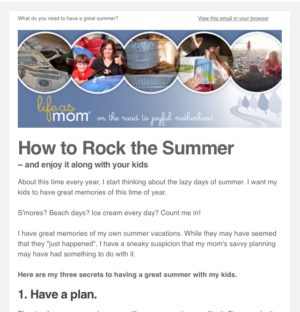 I've found over the years that as blog reading habits and social media have evolved, it is more and more important to make personal connections and not to allow the different places on the web to distract from real connections.
People matter more than pageviews.
When Google Reader died, it almost killed my connection with the writers that I loved the most. Maybe that's happened to you, too.
I've been publishing a Life as MOM newsletter for awhile now. It started out as a once-in-a-while thing and has now transitioned into a weekly gig.
I've reduced the blog posting schedule in order to be able to spend time improving the newsletter. I've still got some kinks to work out. I'm learning. Always.
I hope you'll sign up and keep that connection.
a weekly note from me, sometimes very personal, sometimes about a seasonal topic
the occasional reminder about a special sale or event
special bonus packs of my books that I don't sell in the store
premiere access to my monthly freezer cooking plans – You get to test it with me!
monthly giveaways — I won't be posting these on the blog; they'll only be in the newsletter.
sneak peeks at products I'm developing and a chance to direct me in how you want it to be.
free printables and bonus content
links to things that I think will help your life as MOM
I will never share your email information. I hate spam! There will be an easy unsubscribe button at the end of every newsletter, so if it's not your cup of tea, no worries.
But be nice about it, m'kay? I am the one who writes the newsletter. I get the emails. I don't have a team. LOL! It's about a personal connection, remember, so if there's something that you think I can do to improve the newsletter, by all means, let me know.
I want to help you!