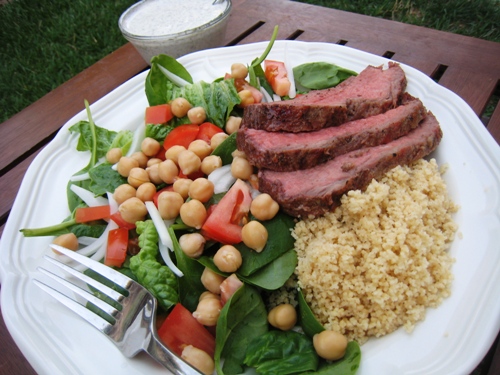 Easy recipes are among God's blessings to busy moms. We want to feed our families well, but sometimes we're on a time crunch — or a brain freeze, as the case may be. You need something easy that doesn't take much time or effort.
Couscous is probably the quickest and easiest thing I can make. Well, besides toast. It literally takes 6 minutes from start to finish. Sure, you can get elaborate and fix fancy couscous. But for a simple side dish, this can't be beat.
What IS couscous?
Originally made from millet, couscous seems to have originated in 9th century North Africa. Today it is often made with semolina. According to Wikipedia,
Today, couscous granules are usually made by rolling moistened coarsely ground semolina wheat into small balls, which are then coated with finely ground wheat flour. The finished granules are roughly spherical shape and about one millimetre in diameter before cooking.
I've seen both Moroccan-style and Israeli couscous. My only experience is with the Moroccan-style, tiny little spheres of pasta that cook quickly. It's a super delicious side dish to accompany grilled meats or to use as a base for salads.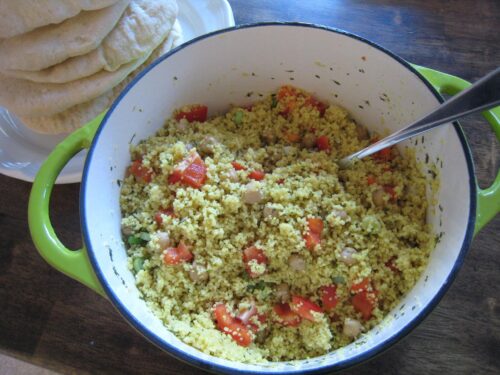 You can buy couscous in a variety of flavors. I've seen whole wheat, tri-color, and original in my local stores. All of them are tasty and easy to prepare.
Simple 6 Minute Couscous
1 1/4 cup hot chicken broth
1 cup dry couscous
salt and pepper to taste
Place hot chicken broth in a heatproof bowl. Add the couscous and stir to combine. Cover the dish completely with a lid or plate to allow it to "cook". Let sit for 5 minutes. Remove the lid and fluff couscous with a fork.

It is that easy. Don't believe me? Watch this video!
See how easy that is?! I bet your toddler could make the couscous for you this week. Sure, you can doctor it up with more seasonings, but this makes a great simple side dish — as is.
Got an easy recipe to share?
Link up your post or share your recipe in the comments.