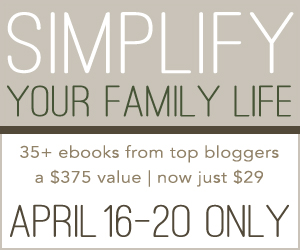 Ebooks are becoming more and more popular. Not only do they cut down on natural resources by going digital, they also can be stored in an itty-bitty storage space. I love that the clutter is kept at bay! It's a great way to simplify our lives. And with an ipad or kindle, the kids and hubs and I can all have our reading material stored centrally.
This week, my friend Mandi has culled over 35 ebooks into one package for a great low price. (As an affiliate for this program, this site receives a small portion of your purchase.)
If you bought these books individually, you would spend $375, however for a few days this week, you can buy the lot for $29. Many of these books are some that I own and love.
Here's a list of titles:
Entrepreneurship & Blogging
Food & Cooking
Homemaking
Marriage & Relationships
Minimalism for Families
Parenting & Kids
The Simplify Your Family Life Sale is brought to you in part by Plan to Eat, an online meal planner that makes eating at home simple. Receive an exclusive coupon code on a one-year membership with your purchase!
The sale ends at 8 a.m. ET on April 20th, and there will be no late sales offered, so don't wait.
Disclosure: As an affiliate, I do receive a portion of this sale.