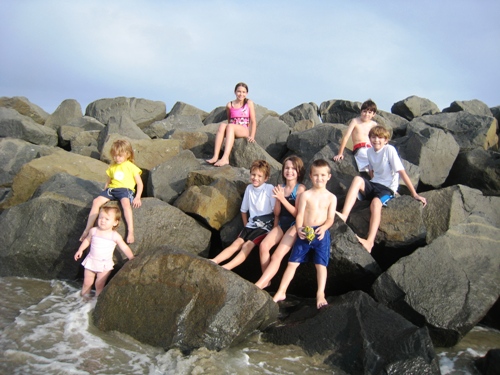 The blogosphere is an amazing place. I have made some rich, rich friendships through blogs. One of the people I've met in my web-surfing is Joy of FiveJs. Joy did all the great design work on my two sites, but more importantly, she has become a great friend. We can talk theology, music, html, homeschooling, and Alton Brown all in the span of five minutes.
Joy and I have often remarked that we share the same brain. We think so similarly on so many topics, but can still stimulate one another with challenging ideas. I like to think she has the left side and I have the right side. Or is it the other way around?
I love it that God brought her into my life. So when she called me a few weeks ago and asked if she and her family could cruise by on their cross-country trip, I was so excited! Joy's coming to my house?! Yeah!
One of the first things we did — besides talk a mile a minute — was take all our kids to the beach. What fun! And though she brought girls and I have boys the same age, the kids were able to ignore each other's cooties and have a great time, as if they'd always known each other. Then we went home for a little dinner party.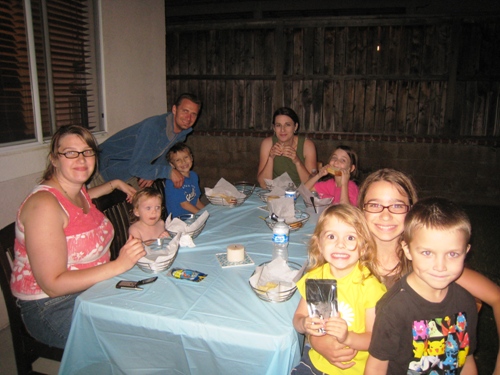 Time for a party!
It's been awhile since I had a party-party at our house, like with guests and everything. But, the timing was really great since Kraft Deli Deluxe had sent me all that I needed to throw one. And Joy provided the perfect occasion. But, I didn't want to be so Martha about it that I didn't just enjoy the short time we would have to visit.
My mission: Throw a fun party in the simplest way possible.
Here are some ways that I went about achieving that:

Simple Decor
Based on some items I already had as well as some new additions, I chose a bright color scheme of yellow and teal. It was festive yet not too crazy. They reminded me of sun and water, you know, California. And since we were going to be entertaining out-of-state guests, it seemed rather apropos.
We had folding tables and chairs  in the garage so I set those up early in the day. What a pain to chase down chairs for everyone when you don't plan ahead. Not that I've ever had to do that or anything.
Teal tablecloths, white napkins, a few cute candles — we're good to go. A few candles for once the sun goes down. Now what about food?

Simple Menu
Since I love to cook and eat, I can often go overboard. I dream up big exotic menus when really simple is usually better.
Solution? An Ultimate Sandwich Party
You know I love Sandwich Night for an easy weekend dinner, but I hadn't considered how easy it would make a party. I prepared platters of cold cuts and cheeses, including three new varieties from Kraft Deli Deluxe: Bacon Cheddar, Jalapeno American, and Three Cheese Garlic. I also lined out wheat and sourdough breads as well as a range of condiments.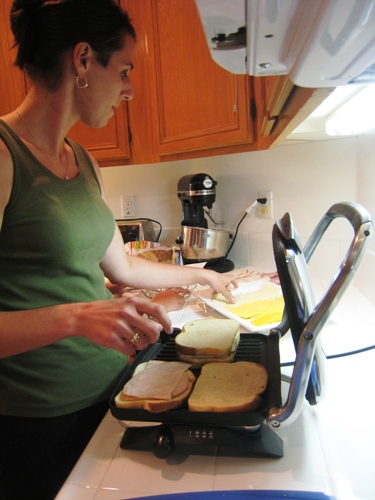 Letting our guests assemble their own sandwiches made the main dish a breeze! I was amazed at how the Kraft Bacon Cheddar sandwich tasted. It reminded me so much of my childhood – except not burnt. Using the Panini grill made things super easy and a little lower fat than your regular grilled cheese sandwich.
I also tried the Jalapeno American on a sandwich. It has a nice kick to it.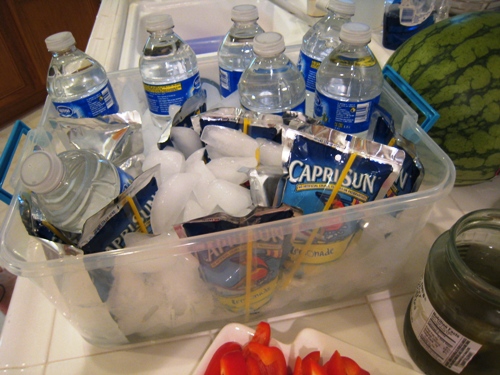 Other simple serving ideas:
I used sandwich baskets with waxed paper liners for a happy compromise between reusable and disposable serving ware. Clean up was a snap!
Side dishes were all finger foods: chips, veggie tray, and fruit tray. No need to answer the plastic fork v. real fork dilemma. No need for a fork at all!
A plastic box filled with ice and water bottles and juice boxes made for easy drinking. I didn't want to worry about pitchers, cups or spills. This was much easier.

Simple Dessert
Now, you know me, I could have got all tricked out with an elaborate cake. But, I'm trying to teach myself that less is more. So, when I saw these sparkly yellow and teal sprinkles? Well, cupcakes, of course! What easier dessert? No need for utensils, plates, or someone to serve. Just grab a cupcake and go!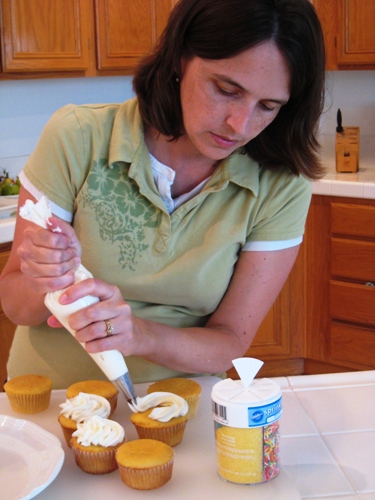 The FishKids and I had a great time decorating the cupcakes and using those festive sprinkles. I am pretty much in love with homemade buttercream and my piping bag. I think my family might ban me eventually. But, I'll enjoy it while it lasts.
It was so fun to see Joy, meet her family, and otherwise have a fun night of eating and talking and laughing. Hosting a Sandwich Party was an excellent way to do it all, too.
Win a Sandwich Party of Your Own!

This week four LifeasMOM readers will win a sandwich party package, including:

a panini grill
four (4) sandwich holders
Deli Deluxe aprons
three (3) Deli Deluxe product coupons
(Approximate retail value: $125)

To Enter:

Tell us your favorite sandwich combination.

Giveaway will be open until 8 pm, August 8th PST. Winners to be notified via email and will have 48 hours to respond, otherwise other winner(s) will be chosen.

THIS GIVEAWAY IS NOW CLOSED. Congratulations to the winners: parkervp@, koolknitter@, kathrynvanderpol@, and tsuzanne@. Send me your addresses pronto!

Disclosure: I was one of five bloggers selected by Deli Deluxe to host an "Ultimate Summer Sandwich" party and giveaway. I have been compensated for the materials needed for my "Ultimate Summer Sandwich" party. However, my opinions are entirely my own and I have not been paid to publish positive comments. Kraft Foods is providing the prizes for this giveaway at no cost to me. This giveaway is not administered by Kraft Foods or its affiliates, but solely by Jessica Fisher.