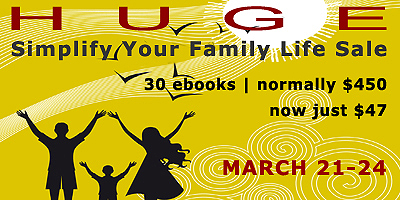 Good news! There is another day left to grab your Simplify Family Life Ebook Package! The sale is ending on the 25th, not the 24th. Yeah for an extra 24 hours.
It's over $400 of ebooks from some amazing bloggers now on sale for $47. It's a great way to get a lot of good reads for just a couple bucks a piece.
Readers who've bought the package have been amazed at how. much. stuff. is included. My planning book is one of them. Go check the list to see who else is included.
I must admit when I went to download my package, I was surprised at the breadth of information covered. Lots to learn!
This collection is available until 2 p.m. EST FRIDAY. There will be no late sales offered.