Today's Day 3 of Kitchen Time Savers. All month I'll be sharing ways that you can save time in the kitchen.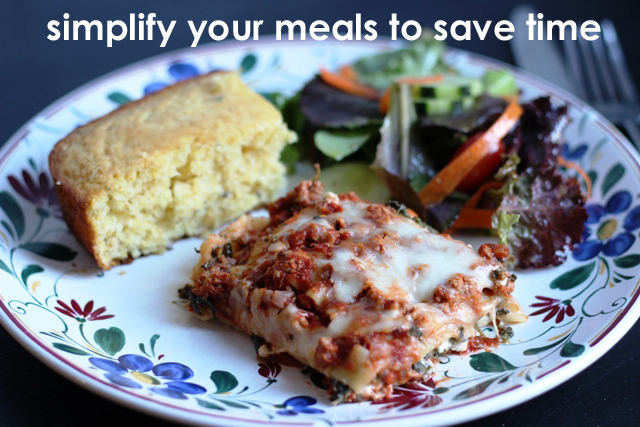 There has been more than one occasion when I've planned a huge, elaborate meal that took hours to pull off. Oh, sure, I do this for holiday meals. A lot of people do. But, sometimes this is just for a weeknight dinner.
A weeknight dinner when my people would be more than happy to eat spaghetti and meatballs, not three different courses.
I know that if I serve simple meals, my family will eat it, eat well, and I'll save time in the kitchen. The simple meals that we enjoy are delicious meals, don't get me wrong. They're just not overcomplicated. And that is a very good thing.
Here's what I mean when I say simple:
lasagna, cornbread, and salad
meatloaf, rice, and greens
beans and rice with vegetables
potstickers, rice, and steamed vegetables
taco night
grilled chicken, garlic bread, and a salad
These are not complicated meals. They come together quickly (most are freezer friendly in some way). They don't require me to be in the kitchen for very long.
Simplify your meals and you'll save time.
This post is part of the Kitchen Time Savers series. You can follow along this month as we explore lots of ways to make more efficient use of our time in the kitchen.

Don't want to miss a post in this series? Subscribe to 31 Days of Kitchen Time Savers here. Get updates via email here.