Simplifying Christmas
We are a participant in the Amazon Services LLC Associates Program, an affiliate advertising program designed to provide a means for us to earn fees by linking to Amazon.com and affiliated sites. We participate in other affiliate programs as well. For more details, please see our disclosure policy.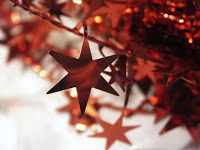 I don't know what's come over me, but my heart's just not into running around like a crazy woman this holiday season.
I don't know. Maybe it was this video.
Or maybe this story.
But, I just don't want to rush around and shop this year. It's not the Bing-Crosby-singing-Silver-Bells-while-shopping image that I used to picture. Instead, I see it simply as spending money and acquiring stuff.
And there's already a garage full of stuff still packed in boxes that we've lived without for the last two months.
Guess I don't need new stuff.
Three years ago my sweet hubby put a moratorium on my Christmas crafting. Things had gotten a little out of hand and while I was saving us money, our supply of peaceful moments was running dry. Things were crazy because I felt crazy.
Last year we downsized our Christmas spending because we made the decision not to go into debt for the sake of gift giving. While we love our families and want to give our children, parents, siblings, and nieces and nephews great gifts, we realized that this isn't the season of our lives when we can or should be extravagant. But, still I felt frantic bustling to find budget gifts that weren't too lame.
It seems like this year is just another step on this road toward a simpler Christmas. And I like it.
Don't get me wrong. I am still contemplating ways to be festive, but all of a sudden I want to do it without lots of spending and shopping and stressing.
Doesn't that sound nice?
And the really wierd part of it is that I feel free. Free from obligation and guilt. Free to enjoy fun times with the kids. Free to cook yummy food. Free to make memories instead of messes.
How about you? Are you simplifying this year? If so, how?
Related:
Christmas Without the Frenzy from Small Notebook
Deck the Holidays: Conquering the Chaos to Enjoy a Simpler Season from Yours Truly