Make your slow cooker do the work for you! It will save you much time in the kitchen.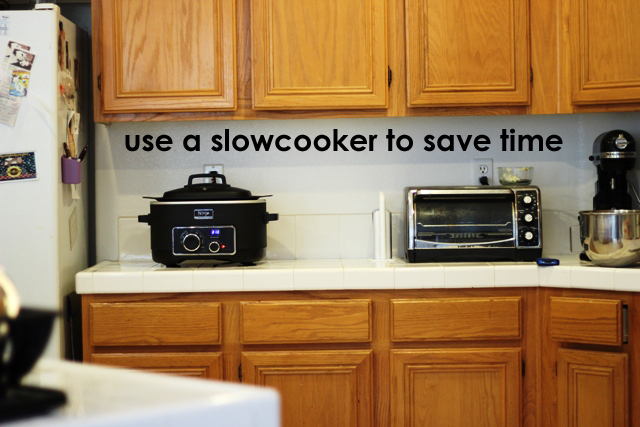 When I was a newlywed (circa 1994), slow cookers were not cool. They were the small kitchen appliances that grammas used or that gathered dust on the shelf. They had weird, outdated illustrations on the side. They often came in colors like orange, avocado, and brown.
Yes, even in the 90's.
But, something happened over the last 20 years. Folks realized what a boon it was to have someone babysit dinner so that you didn't have to. Home cooks realized that braises and other preparations did very well in the slow cooker. Recipe developers started getting creative in how to use the slow cooker.
And voila! The slow cooker is hip once again. And it's lost its 1970s color scheme.
A slow cooker can save you time in the kitchen.
It sounds odd that something SLOW could save you time, but it does. It does work for you while you do something else.
Using a slow cooker can save you loads of time in the kitchen, namely because the recipes that favor this method of cooking are fairly easy to assemble and can be left alone. That is the beauty of them. Spend 10 to 20 minutes prepping things for the crock and then walk away.
Just walk away.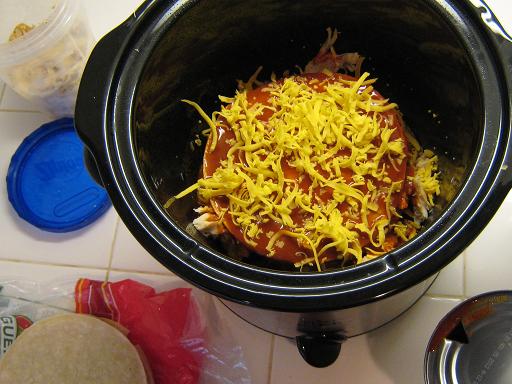 Here are some of our favorite slow cooker recipes:
If you're hooked on slow cooking, you might want to check out my friend Stephanie's new cookbook, 365 Slow Cooker Suppers. I was sent a digital galley to review, but I also paged through it at Barnes and Noble recently. It's a great collection of slow cooker recipes that will last you. all. year. long. No repeats for a year! Go check it out on Amazon.
Do YOU make good use of your slow cooker?
This post is part of the Kitchen Time Savers series. You can follow along this month as we explore lots of ways to make more efficient use of our time in the kitchen.

Don't want to miss a post in this series? Subscribe to 31 Days of Kitchen Time Savers here. Get updates via email here.
Disclosure: This post does include Amazon affiliate links. If you make a purchase through those links, I am paid a small amount in way of advertising fees.