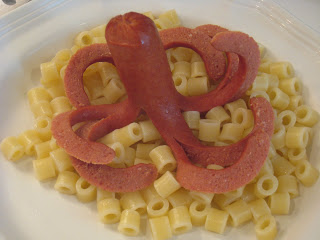 Years ago I read about how you could cut uncooked hot dogs in certain ways to make them form different shapes once cooked. I never gave it a try until I kept coming across ocean-themed hot dog ideas in my research for Camp Wannalaffalotta. So, we tried two different "recipes" this weekend: octopus and jellyfish.
For the octopus: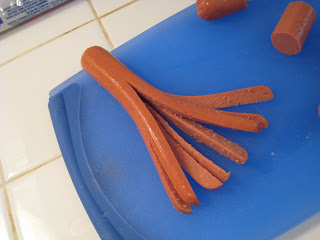 Keeping the hot dog in one piece, slice one half of it in half lengthwise. Slice more and more until there are eight strips all attached to that main piece. Toss it in boiling water and its "tentacles" will curl. Serve on a bed of cooked noodles or mac and cheese, preferably made with shell-shaped pasta.
For the jellyfish: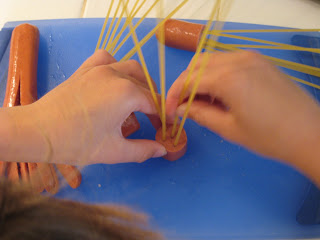 Cut an uncooked hotdog into 4-5 chunks. Insert 6-7 pieces of uncooked spaghetti into each chunk. Cook in boiling water until spaghetti is cooked.