Sorbet, juice, and club soda combine for a refreshing punch, perfect for showers and other special occasions.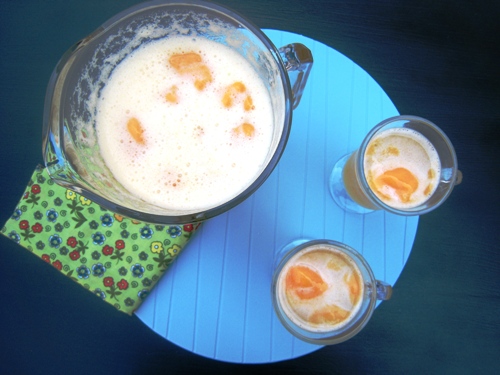 This time of year is one in which I got married and years later had several babies. That also means that it is bridal and baby shower season — at least in my memories.
One lovely shower recipe that I've enjoyed over the years is Sorbet Punch. It's amazingly easy to make.
Simply scoop ice cream and/or sorbet into glasses, pitchers, or punch bowls. Then pour over juice and club soda. The result is a creamy "float" for a crowd. You can create a multitude of flavor combinations by mixing and matching the flavors of ice cream, sorbet, and juice. Depending on the combination you choose, you could also garnish your concoctions with sprigs of mint or citrus slices. For a sweeter drink, use ginger ale instead of soda water.
Some flavor combinations to consider:
orange sherbet, vanilla ice cream, orange juice, and club soda
raspberry sorbet, vanilla ice cream, raspberry blend juice, and club soda
lime sorbet, lime juice, mint syrup, club soda, and mint leaves
peach ice cream, peach nectar, and club soda
coffee sorbet, vanilla or chocolate ice cream, cold, strong-brewed coffee, club soda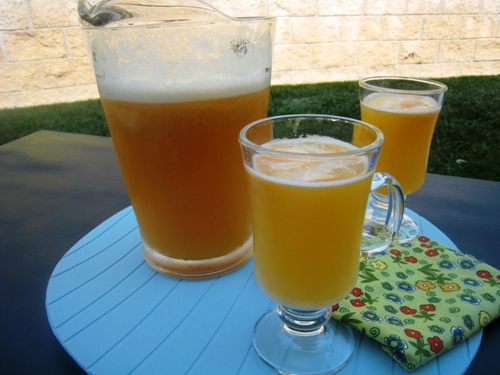 In this rendition, I used mango sorbet, pineapple juice and club soda. But, really the possibilities are endless.
Recipe: Sorbet Punch
Ingredients
1 pint sorbet, sherbet, or vanilla ice cream
2 cups juice
2 cups club soda
Instructions
In a punch bowl or large pitcher, scoop the sorbet. Pour over the juice and soda. Allow flavors to mingle and sorbet and ice cream to melt slightly. Stir before serving.
Preparation time: 10 minute(s)
Number of servings (yield): 8

URS Guidelines
Remember: Each week at Ultimate Recipe Swap, there is a posted theme. You are welcome to share any recipe that fits the theme and contains a link back to Life as MOM. If you're curious about the upcoming themes, I have a calendar here. This week's theme is Dessert.
If you have a recipe that fits the theme, please link it. However, things like Beef Strogonaff will be deleted from Chicken week because it doesn't contain chicken. Please keep this meme as helpful to others as we can.
And don't make me the bad guy! 

What is your favorite recipe for a shower?