Got spring break plans for the kids? Stumped for ideas? No problem. This free PDF provides two weeks of indoor and outdoor family activities as well as the checklists to go with!
Are you ready for spring break? It will be here before you know it!
While some folks may be hitting the road or taking to the friendly skies, many of us spend spring break at home, due to budget or calendar constraints. We can't all be jetsetting off to Hawaii and Florida, right?
Staying home doesn't mean you can't have fun! In fact, you can spend a great week with your kids without spending much money at all.
If not, no worries! I've got loads of staycation type activities for families ready to go in a handy dandy PDF. This Spring Break Plan (in both indoor and outdoor modes) is a springboard for all kinds of good times to be had with your children.
FREE Spring Break Plans in a Printable PDF
Download the Spring Break Plans and the planning is all done! The plans includes everything you need for two weeks' worth of spring break fun. Pick and choose from one week of indoor activities and one week of outdoor activities.
Since it's in PDF form there are clickable links to give you more ideas of what to do, where to go, and what to cook up. Ands since it's in PDF form, these Spring Break plans are also printable so you can carry the ideas with you wherever your roam.
Mix and match the days and their activities to suit you and your family and your season of life. My girls would love it for me to do the family sleepover with them! And I wish I could convince these people to sleep in so we could have a grasse matinee….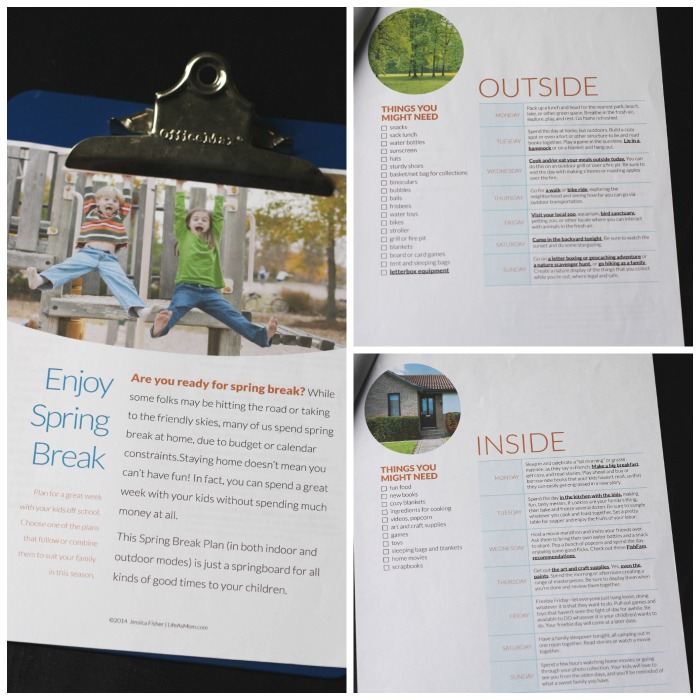 Whatever you chose, make sure it's a break from the norm, so that you are all getting a break. These activities and ideas should get you going in the right direction.
These plans include ideas for field trips, activities, and crafts to do with your kids each day as well as packing lists so that you're prepared for anything.
Just print the plans, and you've got a cheap and easy spring break planned for your family.