Spring Cleaning the Kitchen (Zone Defense)
As an Amazon Associate I earn from qualifying purchases. For more details, please see our disclosure policy.
Take a few minutes each day to dejunk and reorganize your kitchen. Not only will you unload unwanted things and reclaim wasted space, you'll also make cooking much more fun.
If it weren't for you… I'd be a complete wreck. Well, at least my kitchen would be. Thank you for being my accountability on this getting the house more organized thing. If I didn't have to report in once a month, I'm not sure I'd do anything.
But, I know that digging myself and my house out of clutter helps us. Getting more organized helps us do the work at hand. It may seem like a delay, but really it's not.
I tackled the kitchen over the course of several weeks. Here's what I accomplished in March: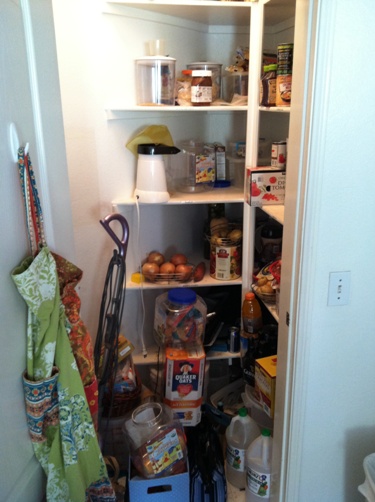 The Pantry
Ours is an odd-shaped pantry. It nestles in a curve between the stairs and the garage. It's deep so it can hold a lot, but sometimes that is problematic because I can't see what all's in there. I tend to pile it up in front.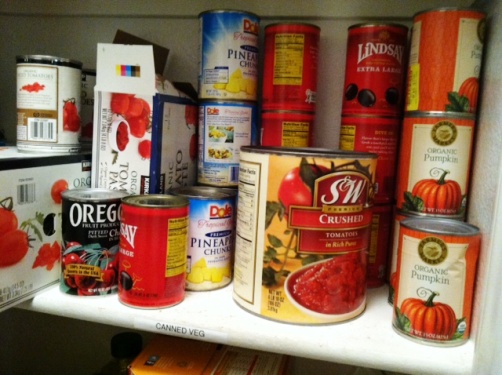 So, recently, I pulled everything out, wiped the shelves down, swept the floor, and then put everything back. Last year I labeled all the shelves. I was pleased to see that the labeling still applies to our usage of the space. When something is put back correctly, that is. So, things are in their place there.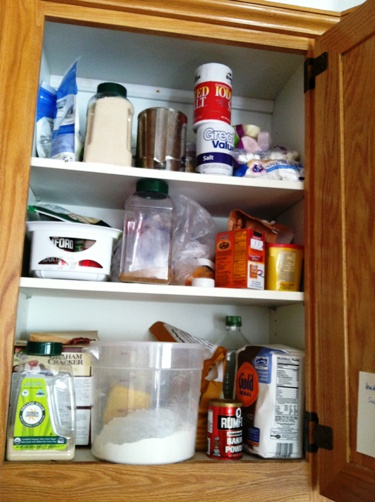 The Baking Cupboards
I am blessed with a fair amount of cupboard space, so I have two areas dedicated to storing baking stuff. Last year I did a pretty good job with the label maker. Yay for label makers! So, it was just a matter of putting things back where they should have been in the first place. Ahem.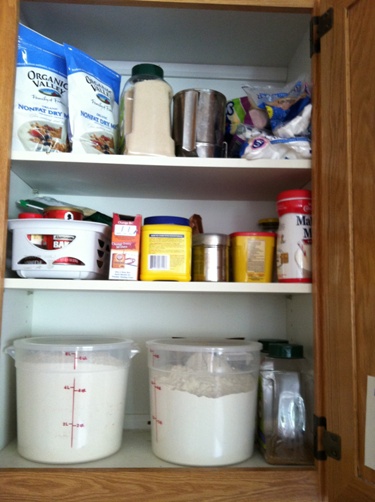 Baking cupboard afterwards
The Spice Cupboard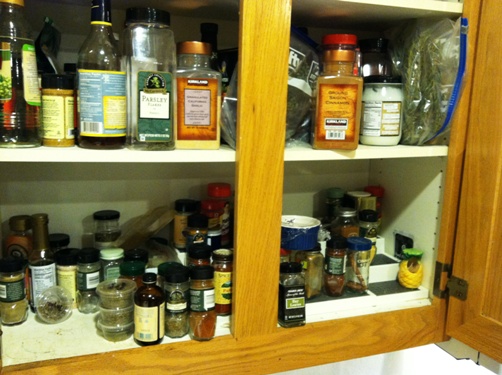 Holy smokes! This was a mess. Guess what I did on a hopping Friday night? I gutted the cupboard, tossed out half a dozen empty bottles and otherwise made sense of the spices and herbs.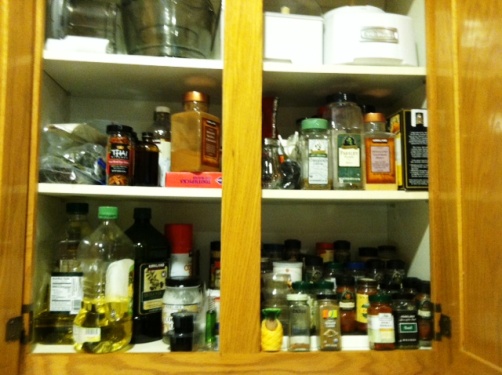 I also found a home for all the bottles of olive oil that seem to wander and often get left on the counter. I love a cleared counter, so finding a place for those was great.
The Gadget Drawers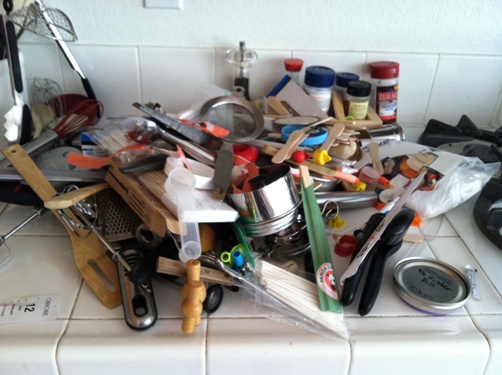 Not only do I have an affinity for small appliances, but I also have picked up a fair collection of kitchen gadgets over the years. These two drawers were a wreck, especially since I have my young people helping me put stuff away. And young people rooting around for chopsticks and straws.
I emptied the drawers out onto the counter and started fresh. I put back the things that I use and love. I threw away a lot of trash. I'm not sure how a price tag from my daughter's leopard print ballet flats ended up in the gadget drawer, but there we have it.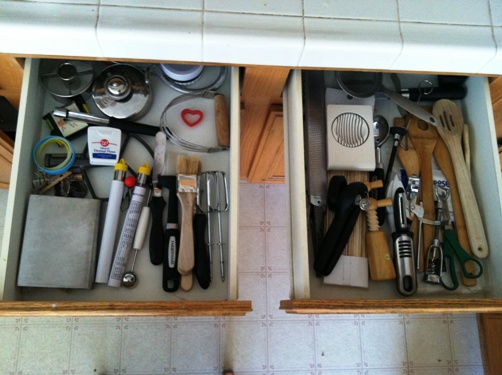 The drawers are a tad more organized now which made cooking Easter dinner much more fun.
The Coffee-Tea Cupboard/Health and Wellness Center
This is like the drug cupboard: coffee, tea, vitamins, and OTC meds. We had some really old stuff in there, so I'm glad I cleared it out. I also ditched the water bottles and travel coffee mugs that I don't like.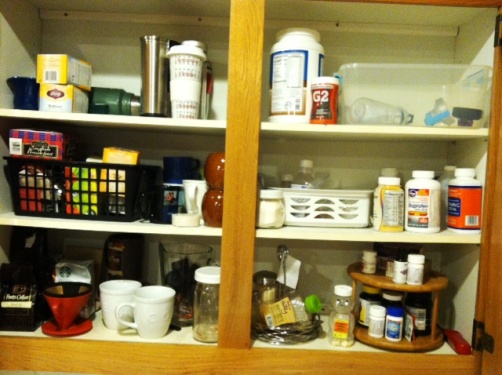 By clearing space in the cupboard, I found room for the cute cream and sugar caddy that was taking up space on the counters. Yay for clear counters.
The Lower Cabinets
In the bottom cabinets we store the plastic dishes, "tupperware", pots and pans, and most of my small appliances. As I type FishBoy10 is putting those in order. Each child is assigned a different kitchen job for a month. His job for March was putting away dishes. Needless to say, some folks get a little lazy at the putting things away.
Imagine an avalanche of plastic dishes and lids.
Of his own accord, he's setting those cabinets to rights, so that "the next person who does this job can't blame me for it being a mess." Amen, brother.
So, that's our spring cleaning in the kitchen!
Are you on Zone Defense?
Did you do any cleaning and organizing in your kitchen this month? Tell us about it. If you didn't, but you feel inspired, check out the assignment here.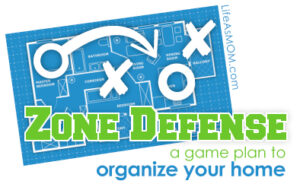 This year we're on Zone Defense again, tackling clutter one room at a time. March we did the kitchen. In April, we're talking laundry and linens. Read the full play book here.