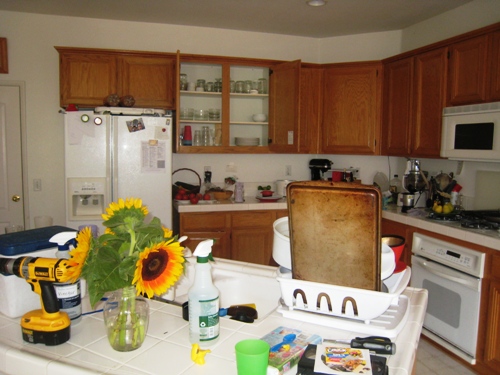 A few months ago, I read this post on "staging your home for living." It struck a chord. Twice now, we have remodeled our home and got it looking spiffy and beautiful and wonderful — and then sold it and moved away. There's a bittersweet irony in that. So, for the last couple months I've been thinking about that idea.
How can we make our home be more of how we want to live?
This week I put some feet to it. I started sorting through the kitchen cupboards; came up with 3 boxes of stuff to give away. Who knew? I decided to finally sell the extensive collection of china that I received as a gift a few years ago. My own "favorite dishes" were in boxes in the garage. We did a swap and sale. Two wonderful ladies are going to get to enjoy the dishes that would otherwise languish in boxes.
Last night hubs finally rerouted some cables and chords so that the TV and stereo are where we've been "meaning to put them" for quite some time. Today the kids and I moved furniture and vacuumed. When FishPapa came home from work he secured bookshelves to walls.
We're not moving, in fact, we'll be extending our lease for another year. But, we want to live in a way that is beautiful and simple and fun. We want to enjoy these quickly passing days with our kids. Too much to maintain or rearrange isn't conducive to family time. While we don't have a huge list of house projects, it's nice to knock them out rather than letting them linger. Plus, it's nice to be surrounded by beauty instead of mess.
We're not done, but we got a great start. We'll be painting dressers and picture frames in the coming weeks. And getting rid of a lot more stuff that is just taking up space.

Repaint!
One thing that can totally transform a room is the tasteful use of accent colors. You don't have to repaint an entire room to give it a little pizzazz. And with all the fun, bright colors that are available, you could quickly and easily paint one wall to brighten things up a bit.
Glidden recently sent us a couple testers from the Glidden Brilliance Collection in colors that totally match our living room couch. The gold and red are just beautiful — and make me pine away for fall.
One of the great things about the testers — besides the colors — is that the paintbrush is built into the cap! How easy is that? You don't have to mess with anything. Just unscrew the cap and paint a small section of wall. Then wait. Observe the color patch during different times and lighting of day so that you can get a better feel for how it will be on the whole wall.
Glidden has a great interactive site to help you choose colors — and their paints are currently available at Walmart, an added plus since Walmart is so easy to get to for most people. Seems they're making it as easy as can be to add color to your wall — except, of course, do the painting for you.
(And from years of being married to a contractor, can I suggest that you go one shade lighter on the paint chip than you think you really want. Can't tell you how many clients asked for a color change after they realized their color was too dark. Just saying.)
This week three LifeasMOM readers will each win a $25 gift card to Walmart, complements of Glidden so they can brighten, lighten, and stage their homes for living.
To Enter:

Tell us one thing you want to do to "stage your house for living."
Giveaway will be open until 8 pm PST on Tuesday, August 16th. Winners will be chosen randomly and notified via email. Please respond within 48 hours to claim your prize.
THIS GIVEAWAY IS NOW CLOSED. CONGRATS TO THE WINNERS: thebauerfamily@, <skiulatr@,  kccuties@
Disclosure: I was provided complimentary paint testers as well as compensated for time spent administering this giveaway.