Exercise will do a body good. And your soul and mind, too.

Today's assignment is to start an exercise regiment.
I'll confess. I've fallen off the wagon in terms of exercise. We were gone all of October and then November was busy with catch up and December I got the flu and then the dog ate my yoga pants.
Ha! Not really. But, I've definitely let exercise, specifically yoga, strength training, and walking slide to the back burner. And now, along with everyone else flocking to the gym, I need to get back on my game.
After two years of debilitating hip pain, two doctors, one chiropractor, and an elimination diet, I found that yoga alleviates the pain in my hip and back. It really has worked to strengthen me and help my hip.
You probably don't need a lot of convincing from me; we all know that we should get exercise. I wish I had developed better habits when I was younger. If you do need a nudge, reread my 5 reasons why you should exercise.
Then, get moving. As for me, I'm heading to yoga class tomorrow.
What exercise habit do YOU want to develop?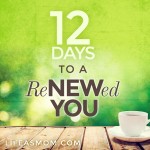 This post is part of a 12-part series, 12 Days to a Renewed You. You can read through the archives here.