One of the good habits to develop when you're a busy mom, pregnant, nursing or otherwise, is to stay hydrated. That can be difficult when you're being pulled in many directions with multiple demands on your time.
The baby's fussy and you find yourself a captive audience in the rocking chair.
Pregnancy nausea has you flat and not wanting to eat or drink anything.
The demands of a busy life and chasing kids prevents you from regular pit stops.
Whatever my excuse good reason, I know intellectually that drinking enough water can keep my skin looking good, can help me fight off cravings to overeat, can reduce headaches, and can help me function better. Drinking water is a good thing for moms.
Easy Ways to Stay Hydrated
Start the day and end the evening with a glass of water. The simple act of sleeping can be very dehydrating. Fuel your body before and after sleep.
Keep water at the ready. Each time I brought home a new baby my mom made sure I had a ready source of drinking water near my bed and next to the rocking chair. Make sure you have water easily accessible.
Try lemon or lime slices for flavoring. Some people find the taste of water "boring." Liven it up with citrus slices or juice.
Opt out of dehydrating beverages. Coffee, tea, and soda can dehydrate you. If you're going to indluge, even up the score by drinking a few glasses of water.
Try mineral water. It may be an acquired taste for some, but I love to treat myself to Pellegrino with lime. Makes water feel elegant.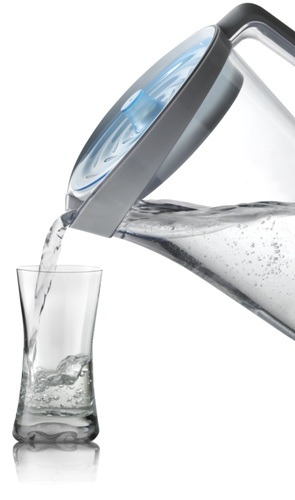 A Giveaway from Filtrete
I really enjoy my Filtrete water system. Not only does it remove the chlorine and other sediment I could do without, but it encourages me to drink more. By filtering the water before I need it and storing it in the fridge, I find myself more likely to drink plentifully throughout the day.
Today's giveaway features a Filtrete Water Pitcher. Not only does this do the same job as the Filtrete Water System, but it also holds up to 12 cups of water, enough to get through the day. According to the manufacturer,
The new Filtrete Water Pitcher from 3M is a convenient, space-saving way to help eliminate bottled water waste at home. The sleek design of the water pitcher allows it to hold more filtered water while taking up less space in your refrigerator. It filters five times faster than traditional pitcher filters, as well as filters two and a half times more water, lasting approximately three months.
One LifeasMOM reader will win a Filtrete Water Pitcher this week.
To enter:
Pick one, pick 'em all. You choose.
1. Leave a comment, telling us how your favorite way to stay hydrated.
2. Follow FishMama and FiltreteWater on twitter. Then tweet this giveaway, such as "It's Baby Week at LifeasMOM! @FishMama is giving away a @FiltreteWater Pitcher. Enter to win: http://wp.me/pLlgS-2PL" Then, leave a second comment, telling us you did so.
3. "Like" LifeasMom and Filtrete Water on Facebook. Then come back and leave another comment, telling us you did so.
Giveaway will be open until Sunday, October 31 at 8 pm, PST. Winner will be chosen at random and notified via email. Please respond within 48 hours to claim your prize.
Congratulations to simply.things.family!
Disclosure: Filtrete Water is providing this prize. I received compensation for time spent writing and administering this giveaway. I was not compensated to post positive comments. For more information, see my disclosure policy.
:: Check out more Baby Love all week long.