This giveaway is now closed. Congrats to the winners: ssway@, simplyjess829@, mdezendorf@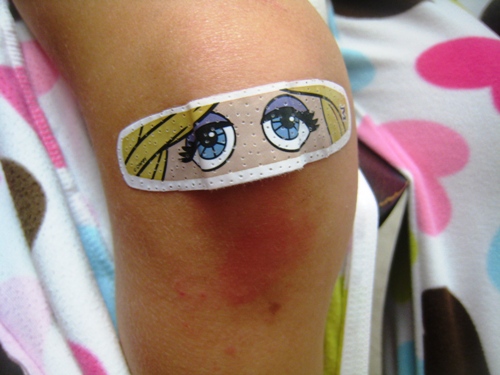 The Girl tripped earlier today. She was whining and whimpering. I chalked it up to the fact that she's outgrowing naps. She'd been whining and whimpering for a while.
Then I saw the dribble of blood down her leg.
Once she saw the dribble of blood down her leg, her whining and whimpering turned into a full-blown wail. Sigh. They never know the pain until they see blood — or hear their parents gasp in horror.
Instead of gasping, I was able to reach for some cool new bandages we received from Band-Aid. She wasn't thrilled with the prospect of The Muppets until she saw the Miss Piggy version.
Who wouldn't be wooed by that purple eye shadow?
Now, hours later, she's snug in her jammies. She even busted out the footed kind. And she's more than happy to let me take a picture of her Miss Piggy Band-Aid. In fact, she made quite a point of thanking me at supper for it.
It's the little things, people.
September is Emergency Preparedness Month. Last week I shared about the Go Bags the kids and I put together. Yesterday JessieLeigh offered some great tips for preparing your kids for emergencies while they are at school. I'm more and more eager to get things in order — just in case.
Band-Aids play a role in all kinds of emergency preparedness, even if it's just to calm a tired and whiny preschooler with a boo-boo.
Win a First Aid Kit from Band-Aid.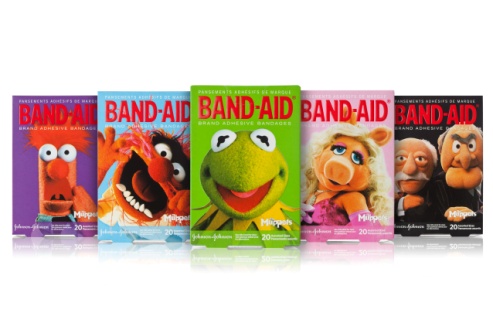 Three Life as MOM readers will each win a first aid kit ($40 value) from BAND-AID®.
The kit includes Brand Adhesive Bandages featuring The Muppets. These bandages feature your favorite Muppets characters in their usual wacky and wild poses! They are available on Amazon.com and at mass retailers with a suggested retail price of $2.99. Watch for sales as these are great to keep on hand for little emergencies, big emergencies, go bags, and even stocking stuffers.
While you and I both know that the efficacy of a bandage does not rely on its exterior appearance, it definitely matters to our kids. Oh boy! Does it! These Muppets Band-Aids are sure to be a hit with your little people. You might want to sport a little Miss P yourself.
To Enter:
Simply complete the information on this form. Please know that the information is only being gathered for the purposes of mailing you your prize in the event that you are chosen as the winner. This information will not be sold, traded, or given away.
This promotion is open until Sunday, September 16, 2012, at 8 pm PST and is limited to US residents, 18 years or older. Friends and family of Jessica Fisher and Life as MOM are ineligible for entry. The winner will be chosen randomly. The prize for this promotion is provided by and shipped by Band-Aid and/or its representatives. This post will be updated with the beginning of the winner's email address. Jessica Fisher and Life as MOM will not be held responsible for unclaimed or undelivered prizes.
Disclosure: I received a first aid kit from Band-Aid as well as a gift card to further stock our emergency supplies. This post does include an affiliate link. If you make a purchase through those links, I am paid a small amount in way of advertising fees.