Stocking Stuffer Inspiration
We are a participant in the Amazon Services LLC Associates Program, an affiliate advertising program designed to provide a means for us to earn fees by linking to Amazon.com and affiliated sites. We participate in other affiliate programs as well. For more details, please see our disclosure policy.
When I was growing up, our Christmas morning consisted of a mad dash for presents coupled with a breakfast of See's candy. My dad always bought my mom a box for Christmas. And she was kind enough to share. Now that we're adults, Grampa Jack gives each family its own box.
Nuts and Chews, in case you were wondering.
While I love me some See's candy, it's not really the breakfast I want my kids to have. Several years ago, I started including items in their stockings that were special food items that would make for a healthy better-than-candy breakfast. Some things I've included in the past have been clementines, apples, granola bars, juice boxes, fruit leathers, dried cranberries or raisins, and mini boxes of cereal.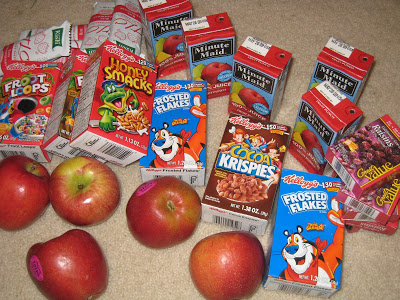 The kids are free to eat whatever is in their stockings as the morning progresses. I still make a "real breakfast," but it's fun for them to have these little snacks first thing.