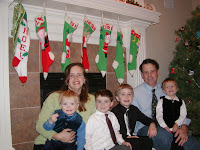 Stockings have always been a well-loved tradition in my family. They are the first thing that we go to on Christmas morning. Even me. (FishPapa does a great job selecting all sorts of treats for me.)
As the years have passed and my children have grown and established ideas in their heads of "how we do things around here," it's been interesting to hear what sticks out to them. One thing that they particularly enjoyed in the past has been receiving breakfast in their stockings.
In an effort to get some nutrition in them before the box of See's candy is opened, I have included mini boxes of cereal, nutrition bars, clementines, and juice boxes in with little games and small gifts. This is a tremendous hit and an act that has become "a keeper."
And our stockings themselves play a big part in our holiday traditions.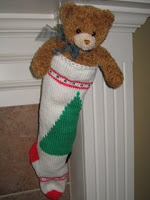 Remember these? In July, two lucky readers each won a stocking handknit with love by my very own, ultra-generous, and super creative MOM. These stockings, themselves, are a family tradition in our home. My grandmother knit mine some 36 years ago! It has yellowed with age, but is no less loved.
Several years ago, my mother embarked on the mission to create handknit stockings of a similar design for all her grandchildren and grand nieces and nephews. The woman is amazing!
And in the spirit of giving that definitely defines my mother, she has agreed to give away another stocking this week (design yet to be determined). If all goes well, the winner should receive it in time to hang it from the chimney with care.
Whaddya gotta do? You can have up to two chances to win this time.

1. Share in the comments section what you fill your stockings with!
2. Post this giveaway on your blog and email me with the link to your post.(lifeasmom at sbcglobal dot net)
This contest is open until Thursday night at midnight, PST. Winner will be announced Friday morning.
And again, make sure I have a way to contact you. This is a time sensitive giveaway. I'd like to get it in the mail as soon as possible after closing.