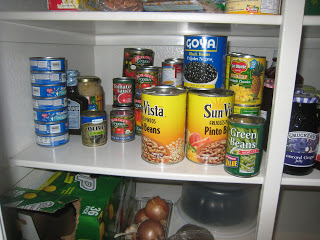 Since I love to cook and eat, I've always dreamed of an unlimited grocery budget and a fully stocked pantry. Back in the days, when we were married without children, I spent an average of $250 per week to feed FishPapa and I. Talk about your unlimited grocery budget! What was I thinking?! Obviously, I bought whatever I felt like cooking, whether or not it was in season, and we ate out a lot.
Well, once we went to one income, I got a little wiser. I started to plan meals around what was on sale and made a list of things to buy. I bought generic when I didn't think it would make a difference in quality. However, things were still tight. Every once in awhile I'd use a coupon, but, I still found myself going over budget, even in buying generic items.
Then I discovered this world of frugal blogs and coupon sites. I spent a fair amount of time surfing and reading and looking at photos of other people's groceries. I learned a lot from people like Crystal, Mrs. Wilt and Teresa. I also visited coupon forums like Hot Coupon World and took a test drive of the Grocery Game which was highly instructive; this video was super helpful.
In the midst of all this research, I really did morph into a grocery geek. All I could talk about was coupons and groceries. My husband feared I was obsessed.
Yet, it all sounded like it was worth a shot.
Seeing this picture was the clincher. Yes, it might be a little in excess. But, WOW! Talk about always having what you need at your fingertips.
All in all, what I learned was that while I could not have an unlimited grocery budget, I could have a fully stocked pantry. By purchasing multiples of items on sale, though I didn't need them that week, I could slowly build my pantry or "stock pile" in a way that would benefit my family, serve my love of cooking, and stay within our means.
And the thing is, this isn't that hard. It just takes a little extra planning before hand and careful attention when at the store. Here are a few tips to building your pantry on pennies.
— Keep track of prices. In order to stockpile effectively, you need to know what a good deal is. Organized Home hasa great pricebook how-to. I've never been very good about writing those things down, but I'm good at remembering numbers, so my price book is in my head. After following the ads for a few weeks, you should be able to get a good idea of how low prices will go for the items you buy.
— Buy low even if you don't need it right then. As long as you WILL use it in the next month or two, it is probably worth buying multiples of that item. For instance, recently Albertson had chocolate chips, sprinkles, and toffee bits for 70 cents per package. This is a really good deal. I don't know that I've ever seen the price be lower. Now, I didn't need those things this month. But, I know that I have two birthdays coming in November and Christmas cookies in December. I could pay 70 cents now or pay up to $2-3 later. It made more sense to buy those things now, especially as they are items with long shelf life.
— Make sure you leave room in your budget for necessities. I can get so excited about nabbing a good deal, I forget to buy regular staples that we might need like milk, eggs, and flour. I now to plan my menus around what's on sale, stock up on good sales, and also make sure the non-sale necessities are covered. My goal is to have a few extra of everything at all times. But, that may be a dream. Teresa does a great job explaining how she balances her budget and feeds her family of 9 well through stockpiling and good menu planning.
— Protect your investment. Your stockpile is not just worth what you paid for it. It also represents the time and coupons you put into it to acquire a good deal. Make sure that you rotate your stock, using the closest dates first. Store dry goods where ants and rodents will not venture. Make sure that your freezer is not plugged into a GFI outlet! Losing your stockpile to varmints and power failure will definitely take the wind out of your sales!