So, call me crazy. But, I get really excited when I score a stockpile of items for cheap or free. Last week it was crackers and cereal. The weeks before my deals included lots of diapers. In the last few months since I started this grocery geek thing, I've been able to nab great deals on toothpaste, toothbrushes, razors, soap, pain meds, etc.
I've even been able to plan ahead and save my husband from several postpartum cell phone calls from the feminine pad aisle! C'mon, you know you've either been a witness or a recipient of one of these calls….
Hey, hon. I can't seem to find the ones that you wrote down. Did you want wings? These say ultra maxi overnight with wings. Are those the ones? It's a blue package with a diamond on it.
Anyways, having a stocked pantry and cupboards has always been a dream of mine. But on a tight budget, I've not often been able to swing it….until this grocery geek thing. This week, I've already stocked up on diaper wipes. We're going back to two children in diapers, so I'm hoping that ten boxes will last me at least a couple months.
But, more important is my chocolate stash! Whoo hoo! Between Walgreens and CVS I gathered 14 bags of chocolate for practically pennies. In fact, I think most of the bags were free, after coupons.
You should have seen me. I had to do some grocery shopping after the drugstores and I hauled my five pounds of candy with me into all the stores so it wouldn't melt in the car!
Now, what to do with it?
Yes, I know, I could just sit on the couch and watch Oprah, tossing bonbons in my mouth every two minutes or so. But, I don't really think that fits my lifestyle.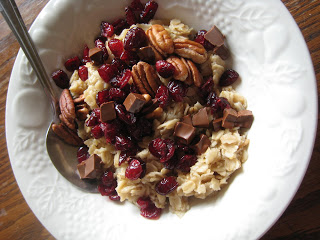 And the way the heat has fluctuated, I know it's not going to be stable for months on end. Gotta make the most of it! And quick! This morning the kids and I chopped it up and sprinkled it over our oatmeal with cranberries and pecans. Yummy! No extra sweetener necessary.
Here are some of my plans for all this goodness:
chop it up for cookies (and save on chocolate chips)
take gift bags to the hospital to bribe, I mean, thank, my nurses
have an Estro-fest with my mom and sister while they're here
just plain eat it and enjoy it!
What would you do with the Mother Lode of Dove and Bliss?