It's so fun for me to read how other moms manage their households and to hear what they do to make ends meet. Today, Connie shares some of her tricks to "eat from the pantry" all year long.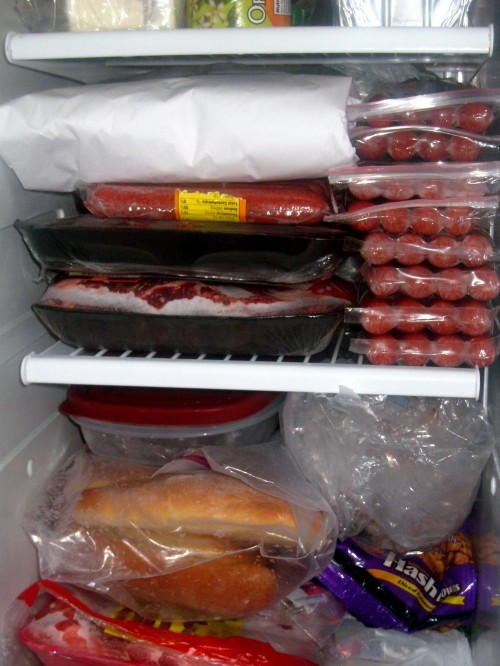 Being a stay at home mom with seven children means I have to be frugal in every area of spending. The most "daily" way of being frugal is menu planning. The first way that I accomplish frugal menu planning is to have a freezer. If you have one, you will be able to stock up on bargains, and when I say stock up, I mean STOCK UP.
My husband likes to do the grocery shopping and if he runs across a special, like the time he found packages of hot dogs on sale 3 for $1, he will buy as many as are available. (I was giddy for days over the fact that each hot dog was 4 cents!)
At any given time, our stocking up means we may have 20 packages of hot dogs in our freezer, along with 15 pounds of ground beef, 10 whole chickens, 12 loaves of bread, and anything else we have picked up for a fabulous price, like pizza sauce for 2 cents a can.
This allows me to plan a weekly menu by shopping in my own kitchen. I use what is available, that we have picked up at rock bottom prices, and plan around that.
One night last week for dinner, I took some breakfast sausages ($1 for 10 links) out of the freezer, canned biscuits we had found on sale and some free eggs my sister had given me, and we had a nice "country breakfast" dinner that fed our entire family of nine for around $3 TOTAL! That works out to roughly 33 cents per person!
There are times, like for my husband's birthday or when we are expecting company, that I will plan a run to the store so I can serve a special meal, like chicken parmesan and fettucini alfredo. But you can bet it won't be 33 cents per person!
Stocking up on bargains and shopping in your own kitchen is far and away the most frugal way to go about feeding a family.
— Connie who blogs daily at Smockity Frocks, is a homeschooling mom of seven rowdy children, wife of one hunky golf pro, maker of aprons, wiper of noses, and writer of stories.